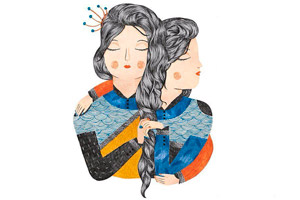 Aries

Taurus

Gemini

Cancer

Leo

Virgo

Libra

Scorpio

Sagittarius

Capricorn

Aquarius

Pisces
May 22 - June 21
Gemini's ruling planet: ☿ Mercury.
The unpredictable, sociable, and active Gemini child is a veritable tapestry of contradictions! They're forever in pursuit of new experiences, interests, and discoveries. Constancy and monotony bore them. In the future, the Gemini child, generously endowed with a variety of talents, will be able to successfully establish themselves in dynamic professions that demand high intelligence, quick reflexes, and active interaction with people.
Gemini Infant
Parents of a little one born under the zodiac sign of Gemini should stock up on double the usual reserves of energy, attention, and patience. From the very first days, the Gemini baby will start surprising them with the fluctuations of their changeable moods. One moment they're a totally peaceful child, strictly adhering to their daily routine, and the next - they're capricious and fussy at the slightest provocation.
Rest assured: in their rush to explore the world around them, the Gemini child will be quick to start crawling and walking. Moreover, trying to rein in this nimble offspring's energy by confining them to a playpen is a bad idea. A Gemini child won't put up with the limitation of their freedom and the monotony of their surroundings. Plus, such an approach may negatively impact their personality and potentially suppress their innate abilities.
Remember, the Gemini child is driven by inexhaustible curiosity and boundless energy. Their attention, like a fluttering butterfly: one moment they're diligently building a tower from blocks, and in the blink of an eye they're making a beeline for the socket. It's impossible to leave them unsupervised for even a moment, making them a serious challenge for a leisurely-paced mother.
And, of course, the main characteristic of the Gemini child: from infancy, they exhibit a keen need for social interaction. They simply cannot stand being alone; whatever they're doing, they need companions.
Raising a Gemini Child
As soon as your little one starts talking, brace yourself for an avalanche of questions. A Gemini child is interested in everything: "Why does the Sun shine?", "What's inside the clock?", "Why do fish live in water?". And this isn't idle chatter, but a sincere need to quench their natural curiosity.
With a Gemini child, you'll have ample opportunities to shine with your erudition. For their inquisitive, insightful mind, well-informed explanations and answers are crucial. By filling their knowledge bank, you'll help the Gemini child in the future to determine their development path. Don't ignore even the simplest and, in your view, most naive questions.
From an early age, teach your Gemini child to read. Their thirst for knowledge can also be quenched by logical developmental games, intricate building sets, kits for beginner chemists and mechanics.
A child of this zodiac sign not only knows how to listen attentively but also express themselves eloquently. So eloquently, in fact, that it's often easy to spot signs of a vivid imagination in a Gemini child's stories. To prevent the young fantasizer from developing a habit of unintentionally lying and presenting fabrications as reality, it's important to explain the need to tell the truth and distinguish it from fiction.
From an early age, the Gemini child is always on the move, and they vitally need a regular change of activities. Music and art schools, astronomy and young radio technicians clubs, intellectual sports sections are excellent for developing the potential inherent in them. Ideally, give the Gemini child the opportunity to develop in several directions at once - after all, you can't guess in which sphere they will, in the end, find their true calling.
Predicting the mood of a Gemini child is impossible. Their emotional state can change several times a day: from joyously enthusiastic to deeply thoughtful. The main thing is not to let your child be inactive and bored for long. They require constant mental stimulation. Guide them, help them to realize their talents, go on hiking trips and excursions together.
For a Gemini child, it's natural to juggle several things at once, but from the outside, their hectic activity may seem like pointless restlessness. Don't try to fit them into what you see as the "right" framework, but focus on cultivating perseverance and willpower in them.
Gemini Child in Interaction with Other Children
Thanks to their inherent sociability, Gemini children easily make acquaintances and quickly find common ground with others. In any group, they become the center of attention, which is facilitated by their well-developed oratorical talent, dramatic flair, and wit. However, when interacting, the Gemini child can often be unrestrained, interrupting and pushing others to the background.
The fast-paced, endlessly ideating Gemini child is not fixated on a constant social circle and is always looking for like-minded individuals. They often change friends, easily adapt to unfamiliar circumstances, and easily find a way out of difficult situations.
Gemini Child in Learning
For a curious Gemini child, there is never enough knowledge! They absorb it like a sponge, from conversations, books, TV shows, films, magazines, newspapers - all sources are good. Even the inscriptions on billboards and labels do not escape their attention.
Consuming a massive amount of information from birth, the Gemini child enters school already quite erudite. Excellent memory, quick wit, and analytical thinking help them achieve success in their studies. Gemini children are especially good at foreign languages - these children often grow up to be polyglots.
The only obstacle for a Gemini child can be restlessness and difficulties with concentration. Being scatterbrained leads to a superficial acquisition of knowledge, preventing them from focusing on important things and achieving thorough results. Therefore, it's useful to teach a Gemini child from an early age to finish what they've started.
Despite their dual, changeable nature, Gemini children endear themselves to others - both their peers and adults - with their friendliness, charm, and excellent sense of humor. As they grow up, they retain their enthusiastic, inquisitive attitude towards life, and no one can match their enterprising spirit and thirst for discoveries. A Gemini child can endlessly surprise you and will never rest on their laurels.

More Gemini horoscopes: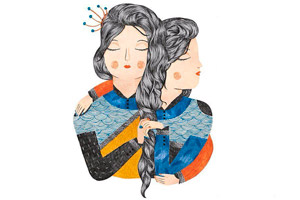 Gemini Man
Gemini Woman
Gemini Compatibility
Gemini Child
Gemini Career
Gemini Love
Gemini Lucky Stones
Gemini Health
Gemini Constellation
Choose a Zodiac sign

Aries

Taurus

Gemini

Cancer

Leo

Virgo

Libra

Scorpio

Sagittarius

Capricorn

Aquarius

Pisces