Article content
Characteristics of Virgo: woman, man...
Love and compatibility
Money, career, health
Astrology of the sign Virgo
Gifts and gemstones of Virgo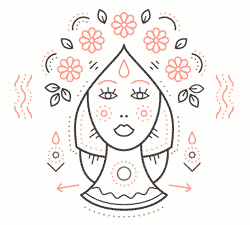 Aries

Taurus

Gemini

Cancer

Leo

Virgo

Libra

Scorpio

Sagittarius

Capricorn

Aquarius

Pisces
August 24 - September 22
Virgo's ruling planet: ☿ Mercury.
Virgo Personality
Those born under the zodiac sign of Virgo are natural sticklers for cleanliness and order. When you first step into the home of a Virgo host, you may be amazed at the level of sterile cleanliness and impeccable tidiness that reigns in this humble abode.
However, what will surprise you even more is the fact that a Virgo can't sit still for a moment without doing something. While maintaining a polite conversation with you, they can simultaneously dust invisible specks off shelves, wash dishes, or even (if you're close friends) iron bed sheets right in front of you! Yet, if you express your surprise, they will be equally astonished in response, wondering if they were doing anything at all. Instilling order in all areas of life is so ingrained in them that they don't even notice it.
However, the need to sit in one place and engage in small talk can turn into real torture for those born under this zodiac sign. Idleness and empty chatter throw Virgos off balance, and if circumstances force them to attend a party, they will try to leave this uncomfortable gathering as soon as possible, citing urgent matters. And indeed, hardworking Virgos have plenty of tasks to attend to.
Who else is capable of taking on the most meticulous, responsible work and helping colleagues sort out their old "mess"? Who will come to the aid in difficult times without unnecessary words, support with actions or valuable advice, and sit day and night with an ill relative? Of course, it's none other than the hardworking, compassionate, and punctual Virgo.
Virgo Characteristics
Although Virgos may appear impassive on the outside, they possess deep, intense emotions that they prefer not to display openly but often consume them from within. This includes a sense of responsibility for themselves and others, a sense of duty, and various concerns about the health of family members and loved ones. However, Virgos maintain a strong self-control, and their negative emotions never reach the boiling point required for an ugly outburst. Their way of "letting off steam" is different: in everyday life, they can grumble and express their dissatisfaction even over the tiniest things, demanding accuracy, punctuality, and cleanliness from those close to them, although they themselves are intolerant of criticism. As a result, it is not always easy for others to be around a meticulous, demanding Virgo who holds high standards for both themselves and others.
In all areas of life - work, friendship, household, and love - Virgo exhibits the same discernment and thoroughness. They find it equally unacceptable to have a rushed breakfast, dress haphazardly, or engage in a casual romance. Not only their home, but also their clothing and moral character must shine with cleanliness.
While willingly helping others, Virgo herself dislikes being indebted to anyone. They are highly independent and self-reliant, and these traits are evident in their frugality and desire to create a reserve for a rainy day. In order to have a substantial sum in their bank account, Virgo can lead an almost ascetic lifestyle, denying themselves small everyday joys and impromptu expenses. However, while saving every penny for themselves, they are capable of generously assisting a family member or friend in need without hesitation.
Hardworking, compassionate, punctual, and independent, Virgo doesn't showcase their efforts. Their nature rejects pretense and laziness, which is why Virgo's lifelong labor of love is carried out naturally and inconspicuously day after day.
Element and Planet of Virgo
Virgo channels the energy of its ruling planet, Mercury, the intermediary between gods and humans, towards serving others. And its element, Earth, imparts practicality and thoroughness to all their actions.
Virgo Communication Secrets
It may seem easy to establish a rapport with a Virgo. Indeed, there's no need for special tricks to capture their attention. In general, people born under this sign are approachable and willing to listen. However, their silence doesn't necessarily imply agreement. Virgos are simply very diplomatic and will express their opinion only if asked.
If you need to reach an agreement with a Virgo, make sure to summarize the discussion at the end and ensure that they agree with your proposal or opinion, rather than simply having politely listened. Additionally, Virgos dislike empty conversations and emotional dialogues. That's why sometimes they prefer to remain silent, avoiding further outpourings. However, if you do ask a Virgo to express themselves, be prepared for harsh criticism, lecturing, and plain grumbling - they won't sugarcoat their words.
Despite these fascinating qualities of Virgos, they are also responsive. If you need their assistance, instead of using ambiguous hints, be direct about what you want from them. If they are capable of helping you, there's no doubt that they will provide support.