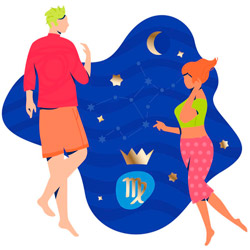 Aries

Taurus

Gemini

Cancer

Leo

Virgo

Libra

Scorpio

Sagittarius

Capricorn

Aquarius

Pisces
August 24 - September 22
Virgo's ruling planet: ☿ Mercury.
The love of a Virgo can be described as playing the silent game: it's impossible to determine whether they are in love or not. Sometimes, it may even seem like they are incapable of love. Virgo's courtship is always cautious and unobtrusive, to the point where it might seem like they are not interested at all. Meanwhile, the Virgo might already be envisioning a future together, while you haven't even realized their interest in you.
For a Virgo, purity and transparency are of utmost importance in a relationship with their beloved. If a Virgo has made their choice, they will do everything possible to establish honest and trusting connections, which encompass mutual loyalty in every sense of the word.
Perhaps the love of a Virgo is not passionate and sensual to the same degree, but it is enduring, genuine, and pure. There is no doubt that a Virgo is capable of undertaking unimaginable actions for the sake of their loved one if the need arises. For them, true love is not expressed through bouquets and kisses, but through the willingness to do anything for the happiness and well-being of their beloved.
Being a staunch traditionalist when it comes to love, a Virgo is most afraid of making the wrong choice in a partner. That's why they try not to reveal their feelings until they are completely convinced that they have chosen the right person to share their life with.
However, don't expect a Virgo to sing praises and shower their partner with declarations of love once they have found their other half. In their understanding, actions speak louder than words and empty promises. If you seek someone who values deeds over words, your choice should be a Virgo!

More Virgo horoscopes: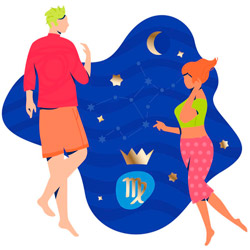 Virgo Man
Virgo Woman
Virgo Compatibility
Virgo Child
Virgo Career
Virgo Love
Virgo Lucky Stones
Virgo Health
Virgo Constellation
Choose a Zodiac sign

Aries

Taurus

Gemini

Cancer

Leo

Virgo

Libra

Scorpio

Sagittarius

Capricorn

Aquarius

Pisces