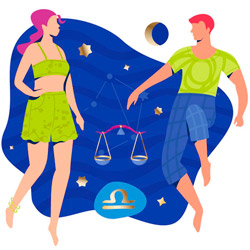 Aries

Taurus

Gemini

Cancer

Leo

Virgo

Libra

Scorpio

Sagittarius

Capricorn

Aquarius

Pisces
September 23 - October 22
Libra Zodiac Sign: ♎️
Love for Libras is an enigma, mysterious and mystical. Libras, for the most part, are true connoisseurs of all things beautiful, which is why they strive to remain in a state of infatuation throughout their lives.
Even as family-oriented individuals, Libras are often seen flirting and coquettish with the opposite sex. Men of this sign are always attracted to the company of charming beauties, while Libra women happily spend their leisure time in the company of men, considering it nothing more than friendly interaction. There's no need to be jealous - they simply derive positive energy from these interactions.
Libras are tender and sensual in love. They rarely fall in love at first sight but always deeply desire a strong partnership with a more decisive and enterprising individual. It is extremely important for them to feel needed and loved. This gives them a sense of self-assurance that Libras constantly strive for. Their need for love is comparable to that of a child, and it often wins people over.
Libras, for the most part, are romantic, friendly, and accommodating. So, don't be fooled when a representative of this Zodiac sign shows you signs of attention and smiles charmingly. For them, it's simply a matter of good manners. However, when Libras are truly in love, they won't hide it or devise ways to win over their chosen one. They are more likely to say, "I like you, let's be together!" The rest will be up to you.
Due to their childlike perception of romantic relationships, don't expect much practical help from Libras in matters of household management. They are focused on harmonizing their inner world and will leave it up to you to handle everything. If you seek a sincere and childishly strong attachment, Libras are the ones to choose!

More Libra horoscopes: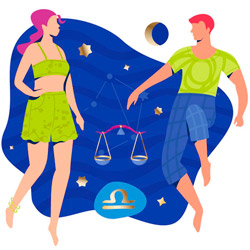 Libra Man
Libra Woman
Libra Compatibility
Libra Child
Libra Career
Libra Love
Libra Lucky Stones
Libra Health
Libra Constellation
Choose a Zodiac sign

Aries

Taurus

Gemini

Cancer

Leo

Virgo

Libra

Scorpio

Sagittarius

Capricorn

Aquarius

Pisces