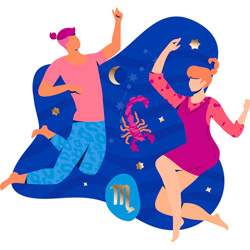 Aries

Taurus

Gemini

Cancer

Leo

Virgo

Libra

Scorpio

Sagittarius

Capricorn

Aquarius

Pisces
October 23 - November 21
Scorpio's ruling planets: ♇ Pluto, ♂ Mars.
Scorpio's love is akin to a cup of hot cocoa, with its sweet and bitter taste. Individuals born under this Zodiac sign have the ability to both warm and burn their chosen partner. Their significant other knows all too well the passionate and intense nature of a relationship with a Scorpio. Yet, their allure is so strong that few willingly turn away from the sweet agony of their love.
Scorpio cannot tolerate half-truths or obstacles. If it were possible, they would gladly infiltrate their partner's mind to gain full access to their thoughts. It is crucial for Scorpio to feel that they are the only one. Once assured of their partner's trustworthiness, they will strive to ignite true passion within them and gift them with a full spectrum of exhilarating emotions.
When Scorpio falls in love, their bold, passionate, and fiery nature undoubtedly shines as they strive to impress the one who has captured their heart. But before fully surrendering, Scorpio will subject their passion to a thorough interrogation to gauge the sincerity and reliability of their lucky companion. Meanwhile, Scorpio reserves the right to keep their own secrets.
Scorpio's curiosity and desire to uncover all the mysteries of a person are the first signs that they are genuinely captivated and serious about the relationship. They want to know everything about their chosen one—their thoughts, dreams, past, and future. Yet, it is a challenge that only a few can successfully navigate. However, those fortunate enough to earn Scorpio's trust will undoubtedly bask in their attention, gifts, love, and unwavering support for years to come. If you seek to explore the depths of passion, Scorpio is the choice for you!
More Scorpio horoscopes: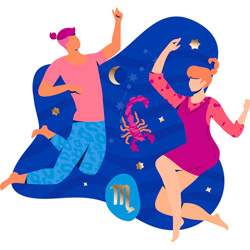 Scorpio Man
Scorpio Woman
Scorpio Compatibility
Scorpio Child
Scorpio Career
Scorpio Love
Scorpio Lucky Stones
Scorpio Health
Scorpio Constellation
Choose a Zodiac sign

Aries

Taurus

Gemini

Cancer

Leo

Virgo

Libra

Scorpio

Sagittarius

Capricorn

Aquarius

Pisces