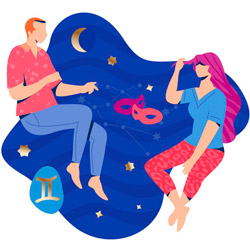 Aries

Taurus

Gemini

Cancer

Leo

Virgo

Libra

Scorpio

Sagittarius

Capricorn

Aquarius

Pisces
May 22 - June 21
Gemini's ruling planet: ☿ Mercury.
For sociable and inquisitive Geminis, new love can seem to happen almost every day. These restless and daring individuals, once smitten, immediately lose their heads and waste no time diving into a whirlwind romance with their newfound passion, believing wholeheartedly that it's meant to last forever. However, unfortunately, in most cases, this love fizzles out before it even has a chance to fully ignite.
In defense of Geminis, it must be said that they sincerely believe they have found "the one," their true love until the end. That's why they aren't afraid of trips to the registry office, which often results in multiple marriages throughout their lives. When going through a divorce, they always claim they simply made a mistake in their feelings.
Although Geminis can't be labeled as skilled seducers or masters of allure, they are not lacking attention from the opposite sex. Their childlike spontaneity captivates many. There are always a few individuals who are more than happy to accompany Geminis beyond harmless flirting. So, these darlings of the crowd don't have to put in much effort. Receiving love comes much more naturally to them than giving it.
Interestingly, lively Geminis usually express their love in a playful manner, attempting to entertain their beloved. They are open and sociable, much like children, so it's not a challenge for them to vividly express their love, looking into the eyes of the one who has captured their heart. Geminis don't know how to be shy and see nothing wrong with openly confessing their feelings to their loved ones.
People born under this Zodiac sign are incredibly infatuated and fickle. Therefore, if they choose someone who is slow and indecisive, they won't wait for months for a reciprocal reaction. They will silently and without many words embark on the search for new love.
So, what should you do if your significant other is a Gemini? You can keep their love by ensuring you always have a shared, interesting activity. Let them know that being with you won't be boring, and don't hold back their creative impulses and natural curiosity. If you're looking for a partner with whom you can travel the world and experience all the possible delights of life, Geminis are the perfect choice!

More Gemini horoscopes: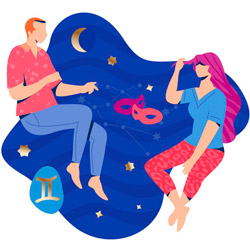 Gemini Man
Gemini Woman
Gemini Compatibility
Gemini Child
Gemini Career
Gemini Love
Gemini Lucky Stones
Gemini Health
Gemini Constellation
Choose a Zodiac sign

Aries

Taurus

Gemini

Cancer

Leo

Virgo

Libra

Scorpio

Sagittarius

Capricorn

Aquarius

Pisces