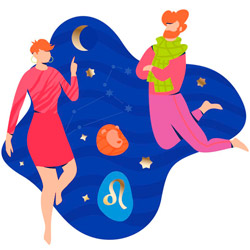 Aries

Taurus

Gemini

Cancer

Leo

Virgo

Libra

Scorpio

Sagittarius

Capricorn

Aquarius

Pisces
July 23 - August 23
Leo's ruling planet: ☼ Sun.
Love with a Leo is like a secret treasure box—you never know what's inside. Most likely, you'll find an incredible mix of emotions, ranging from admiration and excitement to aggression if the Leo doesn't get what they want, or deep contempt if the chosen one fails to meet expectations.
However, negative love experiences are not common for the sunny Leo, and when they do happen, they quickly pass. With royal dignity, they simply turn away and move on from someone they deem unworthy.
Leo knows how to love beautifully, without hiding their feelings from the object of their affection or those around them. Being with Leo instantly makes you feel genuinely loved and protected. They are very attentive to their partner and know how to love unconditionally, without being constrained by conventions.
Speaking of courtship, a lovestruck Leo always approaches it with great seriousness. Like their fiery counterpart Aries, Leo is not accustomed to accepting defeat, so they always strive to put in maximum effort to achieve their goal in the shortest possible time. However, unlike Aries, Leo can adapt their tactics, sometimes being forceful and at other times very delicate. In the end, if Leo wants it, they can win your heart.
A representative of this Zodiac sign is typically very generous and attentive to their loved one. And when it comes to romantic conquests, they will undoubtedly go all out to convince their beloved that there is no one on earth better than the majestic Leo. Interestingly, more often than not, they effortlessly manage to win over the person they're interested in. Their self-assurance and flirting skills rarely leave others indifferent.
If you want to be with a vibrant personality, choose a Leo. It's cozy and comfortable to be around them, especially for those who deeply crave words of love, patronage, and warm embraces.

More Leo horoscopes: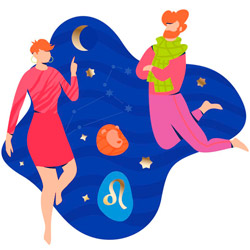 Leo Man
Leo Woman
Leo Compatibility
Leo Child
Leo Career
Leo Love
Leo Lucky Stones
Leo Health
Leo Constellation
Choose a Zodiac sign

Aries

Taurus

Gemini

Cancer

Leo

Virgo

Libra

Scorpio

Sagittarius

Capricorn

Aquarius

Pisces