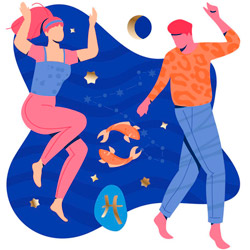 Aries

Taurus

Gemini

Cancer

Leo

Virgo

Libra

Scorpio

Sagittarius

Capricorn

Aquarius

Pisces
February 20 - March 20
Pisces' Planets: ♆ Neptune, ♃ Jupiter.
The love of Pisces is a real entanglement, and typically, it is the Pisces themselves who get caught up in it. In love, they sometimes don't understand where they're heading or what they want. They tend to choose an unattainable object of affection, ignoring a great catch that's right within their grasp. Additionally, they can misinterpret their feelings, mistaking infatuation for 'til-death-do-us-part love, or genuine feelings for mere friendship. One thing that's decidedly absent from their love is calculation. And logic, too.
Surprisingly, among Pisces, one can find both fatal seekers of romantic adventures and devoted, loving hearts. Moreover, the first category easily flows into the second and vice versa. It's all about the acute need to give love. When truly in love, Pisces become tender, sensitive, and understanding partners, ready to make compromises and live for the love and happiness of their chosen one.
Sensual and selfless Pisces seem to give themselves fully to the person who has captured their heart. For reciprocated love, they're ready to sacrifice a lot. However, in the heart of a Pisces, there's always a small secret chamber, inaccessible to anyone, and it can harbor an entire universe. That's why Pisces never achieve absolute intimacy with anyone.
How do you know when Pisces are in love? It's very simple. Their love-filled eyes and shy sidelong glances will tell the tale. When in love, Pisces are unlikely to strive to be near their beloved 24 hours a day, but they always wait for them, ready to welcome them into their embrace. This Zodiac sign holder is more likely to wait for their chosen one to make the first move than to take the bold step of confessing their love themselves. Mystery and modesty are constant companions of Pisces.
You might overlook a Pisces at first when meeting in a loud group, but their charm will unfold during longer and more intimate conversations. Full of mystery and enigmatic allure, Pisces will gradually win your heart, day by day drawing you into their depths. If you want to be with someone who will cherish your feelings and respect your inner freedom, Pisces should be your choice.

More Pisces horoscopes: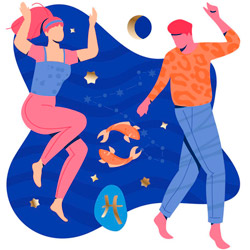 Pisces Man
Pisces Woman
Pisces Compatibility
Pisces Child
Pisces Career
Pisces Love
Pisces Lucky Stones
Pisces Health
Pisces Constellation
Choose a Zodiac sign

Aries

Taurus

Gemini

Cancer

Leo

Virgo

Libra

Scorpio

Sagittarius

Capricorn

Aquarius

Pisces