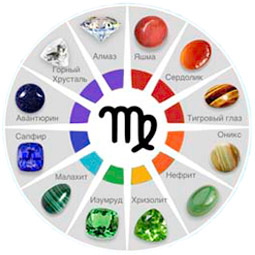 Aries

Taurus

Gemini

Cancer

Leo

Virgo

Libra

Scorpio

Sagittarius

Capricorn

Aquarius

Pisces
"And Marta will spin," sings the hero of a children's film. The words of this simple song capture the essence of the character of a person born under the sign of Virgo. Whether it's snowing or flooding, the industrious Virgo will continue to work and succeed!
The mistress of the Copper Mountain generously scatters stones before Virgo, allowing her to choose the ones that will help her achieve her goals. Among the treasures, Virgo should select talismanic gemstones: carnelian, sapphire, emerald, jasper, jade, tiger's eye, rock crystal, onyx, aventurine, peridot, malachite, and diamond.
Carnelian

Virgo lives in anticipation of love and is always ready to open her heart. Behind her primness and restraint lies a tender heart, like a blooming garden behind a tall fence. Many of its fruits, glistening in the sunlight, resemble carnelian. Lord Byron and, following him, Pushkin wore rings with this stone. It is in reference to a carnelian ring that we know the famous lines: "From betrayal, from oblivion, my talisman will protect!" Carnelian will guard the heart of Virgo.
Sapphire

The goddess Astraea, as she ascends to the heavens, touches the constellation of Virgo, seeing in her a companion in the challenging task of establishing justice. People born under the sign of Virgo not only sensitively perceive injustice but also strive to restore truth. Virgo will defend her own wallet if she is cheated in the market and will protect her client's interests if she represents them in court. The yellow sapphire will be Virgo's ally in the search for truth and justice.
Emerald

Legend has it that the emeralds belonging to Shah Jahan, who built the Taj Mahal, were engraved with texts. No one knows what those texts said, but everyone knows of his great love and sacrifice, memorialized by the famous mausoleum, blushing in the rays of the rising and setting sun.
Virgo is also capable of building a palace in her soul in honor of love. And the emerald will help her find a suitable subject worthy of a poem. Additionally, the emerald symbolizes fertility and provides patronage to mothers.
Jasper

By gripping a small gem or cameo in your hand, you can feel the raised pattern—clear and profound, like a winged expression or an incantation. Such amulets can be seen in the Hermitage Museum and the Kerch Museum. Jasper is considered the best material for gems, and it is one of Virgo's protective stones.
According to the late antique physician Alexander, a jasper gem will relieve stomach pain. Another physician, Marcellus Empiricus, recommends wearing this stone around the neck. Jasper gems heal not only physical ailments but also mental afflictions, and a cameo with an image of Eros is considered a love talisman. Jasper will bring health and happiness in love to Virgo.
Jade

What will Virgo choose: longevity or love, prosperity or wealth? And yet, these are just a few of the many blessings that jade can offer her. A peach carved from jade will bring longevity to Virgo, while a mandarin duck will become a love talisman. A jade flying bat will bring luck on its wings, helping Virgo ward off troubles and enemies, and a jade fish will bring wealth to the amulet's owner.
Tiger's Eye

Virgos are as keen-sighted as tigers when it comes to maintaining order in the home, at work, and in the heart. They will always notice the dirt left in the corner of a room or in an accounting report. Virgos are fastidious; they will ensure cleanliness everywhere: cleaning windows and purifying intentions, freeing plans from false goals, and demanding cleanliness from those around them. Even a tiny talisman made of tiger's eye will give Virgos the strength for this grand cleaning.
Clear Quartz

The elevated emotions of Virgo require celestial purity, as Mandelstam wrote: "Crystal of high notes in the ether." However, Virgo's practicality takes its toll, and she will definitely try to apply any discovery to her household. Virgo needs a talisman of clear quartz, as it will allow her to put her thoughts of the sublime into practice and appear not foolish but practical. In other words, clear quartz will bring harmony to Virgo.
Onyx

Onyx is considered the lucky stone of Virgo. And what is this luck? Onyx will protect the home and household buildings, so dear to Virgo's heart, from fire. It will also preserve her inner tranquility, shielding her from emotional fires and fever. Onyx will save the ship of her hopes and the carousel of childhood memories. This stone will protect Virgo from the evil eye and keep peace in her soul.
Aventurine

Virgo has a clear mind, and aventurine resonates with her in this regard. It clears the head of extraneous thoughts and helps with concentration. It is a stone for those who like to take risks but do not get intoxicated by danger, be it in matters of love or money disputes.
Virgo calculates opportunities soberly and boldly engages in any endeavor. For her, it is not an adventure: the risks are carefully weighed, she sees the situation several moves ahead, and aventurine additionally protects against nervous disorders. Virgo will embark on her journey for happiness completely calm and charming, as the stone will even enhance her complexion.
Peridot

Virgo does not faint at the sight of a scratch but attentively listens to advice on medical topics. Therefore, she will gladly acquire peridot, which will serve as a healer for her body (as read in the "Izbornik of Sviatoslav"), her soul (warding off evil spirits), and her destiny (bringing luck and winning over those around her). The caring Virgo and the talisman with peridot, protecting the home from thieves and fires, will find common ground.
Malachite

"If I fall ill, I won't go to doctors," sings a song. And Virgo agrees with this view. It is better to acquire malachite as a preventive measure. Virgo seeks ways to multiply what she has and thinks about how to use what she acquires correctly. A talisman with malachite will help her make the right decisions.
Diamond

"May the marriage be as strong as a diamond," thinks the groom when he presents a diamond ring to his bride. But a diamond is not only a symbol of power and marital fidelity. A. Blok expressed another property of this magical crystal: "Coal turns into a diamond."
With the character of a person acquiring a diamond, amazing transformations also take place. Virgo, possessing this gemstone, becomes firm in her intentions. She makes decisions without doubts. A talisman with a diamond ensures success in all her endeavors.
Brief properties of the main gemstones for Virgo:
Best Gemstone Colors for Virgo:
Yellow and Purple Colors
Mercury, the great logistician who knows how to deliver a love message and facilitate communication between suppliers and buyers, offers Virgo gemstones of yellow and purple hues, as well as colorful minerals.
Agate will protect Virgo from thirst in the heat and chills in the cold. Additionally, it will strengthen her memory, allowing her to do without a daily planner.
Garnet will help Virgo focus on achieving her goals: one goal, one effort.
Citrine will make Virgo's requests so persuasive that people she turns to will consider it their duty to help her.
Topaz will guide Virgo in finding friends and becoming the head of the family, while maintaining peace within her close relationships.
Gemstones Contradictory to Virgo:
We enjoy examining the tiny figures in the paintings of Pieter Bruegel the Younger: here is a bundle of firewood, and there are women with a basket. Virgo, inclined to meticulousness, will count all the pieces of firewood in the bundle and every grain in the basket. She will rewrite the manuscript, improve the project, and constantly double-check calculations.
It is difficult to say where responsibility ends and pedantry begins, but Virgo can get stuck with any task, just like a viewer in front of the paintings of Pieter Bruegel the Younger. One should not condemn her for this, nor for her curiosity—Virgo wants to do things better.
Amethyst, sometimes called the "widow's stone," may bring Virgo unrequited love, and she, like a swan, falls in love only once. The airy element to which this gemstone belongs is too rarefied for Virgo's dense emotions and thoughts.
Aquamarine weakens desires—Virgo may fall into melancholy and gloom with such a companion.
Adularia will not make Virgo more romantic; rather, its vague thoughts and aspirations will only irritate her.
Gold and Silver for Virgo Jewelry
Gold
For Virgo, gold represents, above all, a wedding ring, an autumn fruit garden where she harvests, delighting her heart; the order of a measured chamber; and the flame in the stove and fireplace, a thimble and a brooch. She will be pleased to receive yellow roses or, better yet, gold in her jewelry. This metal signifies everything she loves: security, wealth, love, and comfort.
Silver
Virgo's soul sings when she cleans silverware, buckles, and accessories by the mirror. It's worth mentioning the silver canvas in the box next to the silver cup holder and sugar bowl. She will be interested in reading about a silver rattle in a novel and will be captivated by an intricately crafted hand basin in a museum. For Virgo, silver signifies elegance and clarity. In the clear patterns of stamped metal, everything is as understandable as in her measured life.
On Roman reliefs, Gaia, the patroness of all living things, was depicted with children, fruit in her apron, and animals at her feet. Mercury is recognizable by his winged helmet, sandals, and caduceus. What will Virgo choose? For her, there is no contradiction: she considers the entire cosmos her home and is ready to bring order to it. There are no distances for her—only a path that she will overcome.

More Virgo horoscopes: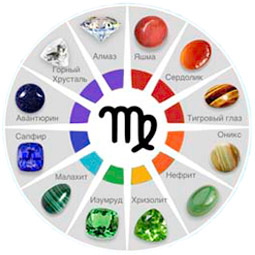 Virgo Man
Virgo Woman
Virgo Compatibility
Virgo Child
Virgo Career
Virgo Love
Virgo Lucky stones
Virgo Health
Virgo Constellation