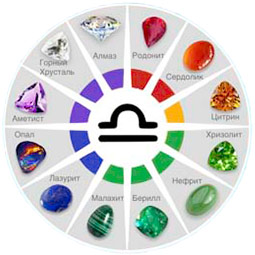 Aries

Taurus

Gemini

Cancer

Leo

Virgo

Libra

Scorpio

Sagittarius

Capricorn

Aquarius

Pisces
When it comes to Libra, we remember those often depicted with scales: Nemesis and Themis. But there is another mythological character with scales in their hands: Kairos, the god of luck and fortunate moments. Why does he have scales? Kairos measures luck for people who deserve it. He is fair and impartial, spiritually pure and honest—all these qualities are also inherent in Libra.
Let's hypothetically place the traits of Libra on one side: fairness, intellect, adaptability, rationalism, and a quest for harmony. And on the other side, a precious or semi-precious stone that can become a talisman for individuals of this Zodiac sign: opal, lapis lazuli, diamond, amethyst, malachite, jade, citrine, peridot, rock crystal, carnelian, rhodonite, beryl. Let's also weigh a pun—Libra has an excellent sense of humor.
Opal

This stone is recommended to Libra by Kairos, the god of luck. Luck is crucial for Libra, especially when there's no time to waste and decisions must be made swiftly, just like Roman legionnaires armed not only with swords and armor but also with the talisman—opal.
"Oh, Venice, the city of lovers," they sing in the movie "Truffaldino from Bergamo." "And melancholics," we add ourselves, otherwise, why would they seek protection from melancholy with opal in medieval Venice? It's no wonder—with winter, dampness, rumors of epidemics, and faces hidden behind masks. In our time, we have dealt with epidemics, but the battle against melancholy continues. Libra is sensitive to sadness, and to prevent oneself from succumbing to gloom, one should follow the example of Venetians and Roman legionnaires—acquire the talismanic stone, opal.
Lapis Lazuli

Lapis Lazuli will help Libra achieve success and protect them from depression. Perhaps that's why it is believed that a talisman with lapis lazuli restores youthfulness: after all, those who are cheerful are always young!
Alongside lapis lazuli, love and prosperity come to Libra, as claimed by Western tradition, and also abundance, as promised by the wise East.
Diamond

"Countless diamonds in stone caves," sings the Indian Guest in the opera "Sadko." A recognizable line, just like the statement that diamonds favor all Zodiac signs. But primarily—Libra.
As Gumilev said, "An diamond shield rose over the sea." Diamond will protect Libra in moments when they are uncertain and vulnerable in their indecision. Libra needs time to make decisions or at least adapt to the situation. Once they figure out their course of action, the diamond shield will guard them against the blows of fate.
Amethyst

It is precisely amethyst that is considered the stone of Libra! Alexander Blok has a poem titled "Amethyst" in his collection Ante Lucem. Perhaps Libra doesn't compose poetry like the great Russian poet, but their hearts are equally intoxicated by love, and the world plunges into violet twilight when it arrives.
Amethyst will protect Libra from false passion, unrequited love, and with this magical talismanic stone, they will be able to find the essence of their entire life.
Malachite

When Libra is in doubt, malachite tips the scale in favor of the right decision. And along with the correct choice, Libra will gain health and inner strength. Malachite will gift Libra with a good mood, as vibrant as mallow growing on the slopes of Greece, from which malachite got its name.
Jade

In the ancient astrological work "The Book of the Jade Casket," there are recommendations on what assistance each Zodiac sign can expect from jade. This talismanic stone is suitable for friendly, fair-minded individuals who value honesty and persistence in their quest for knowledge—all characteristics of Libra.
A peach carved from jade will ensure longevity for Libra, and a Mandarin duck, recognizable in a jade figurine, will help them achieve success in love.
Citrine

Each of us sometimes finds ourselves in a situation where we are unsure of what course of action to take, no matter how much we weigh our decisions. In this uncertainty, there is something reminiscent of fog, heavy clouds when it's unclear if the weather will hold or rain will pour. When one needs to take a risk, citrine will instill courage and determination in Libra, enhancing their eloquence.
And yet, thoughts can be expressed not only through words but also through music, mathematical symbols, sometimes even a glance or intonation is enough to be understood. A talisman with citrine will help Libra succeed in all of these endeavors.
Peridot

This stone was considered a talisman for lawyers and crusaders: some believed that peridot helps unravel complex matters, while Archbishop Marbodius said that peridot protects against evil spirits, which proved to be significant during the Crusades when everything was hostile—people, nature, and legends. And in our progressive age, peridot has gained a reputation as a talisman that enhances love power.
Libra will certainly understand this matter. To the existing knowledge about the advantages of this magical stone, they will add its property of protecting possessions from fire and theft. And the scales will tip in favor of peridot when the time comes to make a decision about their talisman.
Rock Crystal

In the ancient Japanese manuscript "Nihongi," a horrifying three-legged dragon named Yamata-no-Orochi is mentioned. Poetic Japanese people speak of a guardian spirit who protects one side of the world, saying, "If there is a stream in the east, it is guarded by the Blue Dragon." The benevolent dragon god Ryūjin patronizes Japan. And in this same tradition, rock crystal is considered the frozen breath of a dragon.
Alongside rock crystal, Libra will acquire rigor, a desire to protect the weak, and a sense of justice.
Carnelian

At times, Libra may give the impression of being indecisive individuals. But that's only until they make a decision. Then Libra becomes unstoppable! Especially in matters of love. "Love is persistence to the end," says Lope de Vega through one of his characters in the play "The Dog in the Manger."
Carnelian will help Libra make an impression on the subject of their dreams. This talismanic stone will reveal Libra's talents, endow them with charm and courage. Can anyone resist such enchantment?
Rhodonite

Due to astronomical circumstances, Libra fluctuates between joy and melancholy. Rhodonite will help them avoid depression. This talisman will cast it overboard like ballast, and then Libra's mood scale will soar upward like a hot air balloon.
Belief in their own abilities, supported by rhodonite, will push Libra to try themselves in a new endeavor. As sung in the song by Evgeny Gladkov, "The Birth of Gulliver": "You've been given an unprecedented chance. And consider that there won't be another one."
Beryl

Libra has a heightened sense of justice, but they are naturally modest. Beryl will help them be persuasive. The honesty of Libra is valued in society. They rely, as Lope de Vega says, on "…intelligence, ...zeal for knowledge, ...the pen" and come out victorious. And beryl will help them achieve material prosperity: honest employees and partners are always highly regarded.
Summary of Key Properties of the Main Gemstones for Libra
Best Colors for Libra Gemstones
Green, Blue Colors
Prudent and peace-loving Venus invites Libra to discover the properties of gemstones with green and blue colors and choose a reliable companion among them:
Aquamarine will help Libra make the decision to embark on a journey and will protect them from misfortune and unruly individuals along the way. This talisman will provide the opportunity to resolve doubts and avoid stress.
Tourmaline will give Libra the inspiration to conceive a venture and the strength to bring it to fruition, along with a sense of humor to not take potential misunderstandings too seriously.
Green Jasper will strengthen the heart and make it courageous, improve vision, help discern ill intentions in people, heal the stomach, and provide the strength to come to terms with the inevitable.
Gemstones Contraindicated for Libra:
Libra makes plans, but often hesitates: they think they can handle the task but procrastinate due to fear of uncertainty. They would move mountains, but sometimes they can't be bothered to make a move. Libra understands when someone is in the wrong but tries not to criticize. They contemplate all this, being philosophers by nature, and find balance. To maintain that balance, it is best to avoid gemstones that are contraindicated for individuals of this zodiac sign.
Ruby—a stone for warriors, but Libra is a peace-loving sign. They won't always be able to direct aggression in the right direction and will be ashamed of outbursts of anger.
Onyx is sometimes called the "stone of sorrow," and Libra is already prone to melancholy, so they don't need an additional reason for gloom.
Red Jasper stops bleeding, but morally, it can incline Libra towards inaction.
Gold and Silver for Libra Jewelry
Silver
Silver for Libra represents the scales on which they weigh their thoughts and others' opinions. It symbolizes a truce and honesty, the silver inlay on an astrolabe and the diligence in the pursuit of knowledge, the tinkling bells at weddings. Silver gives Libra confidence, helps them substantiate their opinions, and prove their righteousness.
Gold
Gold for Libra represents the nuggets that prospectors weighed, the specks of knowledge extracted through diligent work, the gold standard and unwavering principles, the golden key to the city—a symbol of power and the discernment of a wise ruler. It is the Firebird they hope to catch, as they see no reason to submit. It is their stroke of luck. The golden pen with which they will write the story of their destiny because they rely on themselves. Gold jewelry brings Libra closer to a state of harmony.
Libra knows how a feather can be heavy and a fragment of marble can be light. They can weigh the blue and red colors of the rainbow, understand and not judge human weaknesses. The lever of their scales is wisdom. And, of course, a sense of humor.

More Libra horoscopes: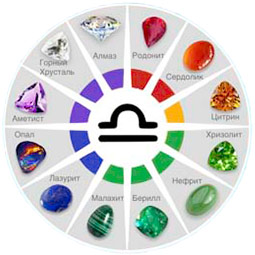 Libra Man
Libra Woman
Libra Compatibility
Libra Child
Libra Career
Libra Love
Libra Lucky stones
Libra Health
Libra Constellation