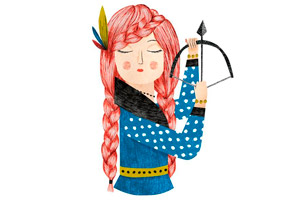 Aries

Taurus

Gemini

Cancer

Leo

Virgo

Libra

Scorpio

Sagittarius

Capricorn

Aquarius

Pisces
November 22 - December 21
Planet of Sagittarius: ♃ Jupiter.
The charismatic, freedom-loving, curious Sagittarius child is born with an insatiable thirst for social interaction and active endeavors. His openness and magnanimity simply can't leave people indifferent - wherever he appears, it's as if a small sun starts to shine! At the same time, his healthy ambition, determination, and self-confidence open up enormous possibilities for the Sagittarius child in achieving life goals.
Sagittarius Infant
The little Sagittarius is the epitome of charm. This adorable, smiling baby knows how to captivate and endear others from the first few months. However, as soon as they're left alone, their cheery mood instantly turns to restlessness and crying: the sociable nature of a Sagittarius infant craves lively interaction. The presence and attention of many people does not tire them, but rather, it calms them down.
However, the relatively carefree period for parents lasts only a short while - get ready for the fact that as soon as the Sagittarius child gains strength, they will need space for their tireless activity. The mobility and energy of growing Sagittarians know no bounds, and their natural curiosity constantly demands fresh experiences.
Just as they learn to crawl, Sagittarius children begin to actively and tirelessly explore their home environment, shifting their attention from flower pots to the contents of cupboards, from new toys to bookshelves. This rapid exploration process is never-ending, so make sure to put any dangerous or delicate items out of reach in advance.
Your little one will cause even more concern when they confidently start to walk. It is at this stage that many children born under the Zodiac sign of Sagittarius start to acquire their first scrapes and bruises. Rushing towards their next object of interest, the quick little Sagittarius pays absolutely no attention to obstacles, stumbling over pebbles, bumps, or scattered blocks.
Raising a Sagittarius Child
As they grow older, the inquisitiveness and mobility of a Sagittarius child take on even more impressive scales! They never run out of questions for their parents on a wide range of topics, including philosophical ones. At the same time, their former boundaries of activity become too narrow - young Sagittarius starts to show an evident and characteristic freedom-loving spirit and a desire to slip beyond the confines of their home.
To satisfy the vast need of a Sagittarius child for new knowledge, don't skimp on time for walks and hiking trips, get them educational games and introduce them to all sorts of sports - this young connoisseur needs a constant change of scenery and hobbies. Remember, a Sagittarius child's interests change like a kaleidoscope - this is how they explore the world and broaden their horizons.
Another characteristic feature of a Sagittarius child is their need for fair treatment and respect for themselves from a young age. Although it's sometimes challenging to keep up with the fiery enthusiasm of a Sagittarius child, the only right way to raise them is democratically and based on mutual trust. Any attempt to curb the spring of a freedom-loving offspring with harsh methods will be met with resistance, and your comments will simply be ignored in the future.
In addition, even at a young age, children of this Zodiac sign have an exceptionally developed intolerance for deceit, falsehood, and dishonest behavior. Their sincere, open nature abhors even a slight lie, and if they catch an adult in hypocrisy, they instantly lose respect for them. A Sagittarius child becomes equally principled when someone tries to impose an opinion that differs from their firm convictions.
However, parents of a Sagittarius child will need to be inventive to cultivate perseverance, organization, and a desire for basic order in their fluttering, butterfly-like child. Alas, while collecting information from various sources and having an impressive breadth of knowledge, this young talent often doesn't demonstrate a tendency to meticulously analyze it.
Otherwise, children of this Zodiac sign cause little trouble. They are optimistic and cheerful, active and generous, independent and honest - what more could happy parents wish for?
Sagittarius Child in Communication with Peers
A Sagittarius child has a true talent for making new acquaintances - sparkling with fun and friendliness, they attract attention like a magnet. From an early age, a Sagittarius child knows how to charm and charge the surroundings with positivity, regardless of their age or social status. From childhood, the makings of a social activist are distinctly manifested in them - the little Sagittarius knows how to inspire with their ideas and quickly gather like-minded people. No wonder they are a welcome guest at all kinds of events.
Playing and communicating with a Sagittarius child is easy and comfortable for their peers. Knowledgeable about everything in the world, they will always find a topic for a lively conversation, and in active games, they will show themselves as an initiator and an active team member. However, there are moments when a Sagittarius child becomes a difficult companion. Sagittarius can show amazing stubbornness and not succumb to any persuasion if they feel it contradicts their opinions and principles. Besides, they find it hard to accept any restrictions that fundamentally violate their freedom.
Sagittarius Child in Education
The versatile development of a Sagittarius child without borders, templates, and frames is a clear advantage in education. At the same time, their habit of acquiring knowledge chaotically, disregarding details and disorganization can affect their overall performance. If Sagittarius students typically study humanities without problems, they may face difficulties with exact disciplines.
To prevent this, in preparing a Sagittarius preschooler, it's important to emphasize the development of their ability to systematize information, build logical sequences, and sequentially assimilate the material. Along with this, training perseverance and discipline won't be superfluous.
On the other hand, a Sagittarius child's attitude towards studies largely depends on the teaching method. They will gladly attend lessons of a teacher who knows how to present the material in an engaging form and flatly refuse to study if they encounter an authoritarian mentor.
A combination of heartfelt human qualities and an innate thirst for knowledge make a Sagittarius child a harmonious and well-rounded individual. Even as they grow up, they retain curiosity, dreaminess, and childlike directness - qualities for which they are so loved by those around them.
More Sagittarius horoscopes: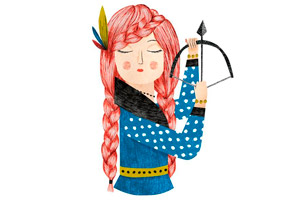 Sagittarius Man
Sagittarius Woman
Sagittarius Compatibility
Sagittarius Child
Sagittarius Career
Sagittarius Love
Sagittarius Lucky Stones
Sagittarius Health
Sagittarius Constellation
Choose a Zodiac sign

Aries

Taurus

Gemini

Cancer

Leo

Virgo

Libra

Scorpio

Sagittarius

Capricorn

Aquarius

Pisces