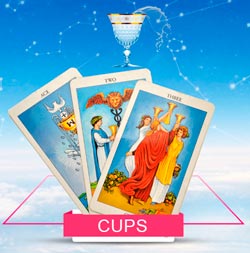 The Suit of Cups in Tarot represents the rich spectrum of human emotions and experiences, including not only joy and love but also anger, fear, disappointment, jealousy, sorrow, compassion, sincerity, and other powerful emotions.
The appearance of multiple Cups cards in a spread indicates that emotions, sentiments, and feelings play a significant role in the querent's life. Cups also signal that the querent is experiencing strong emotions towards other people or particular events in their life.
In terms of power and seniority, the Suit of Cups follows the Suit of Wands. Possessing a genuinely feminine and sensual essence, the Suit of Cups can temper and neutralize the unfavorable predictions of other Arcana in readings.
All Cards of the Suit of Cups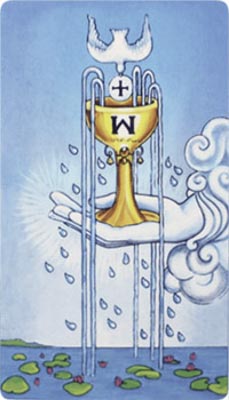 Ace of Cups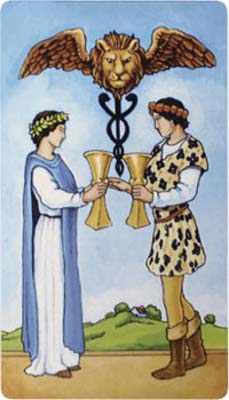 Two of Cups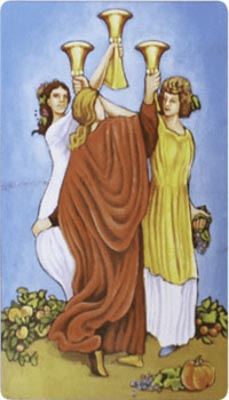 Three of Cups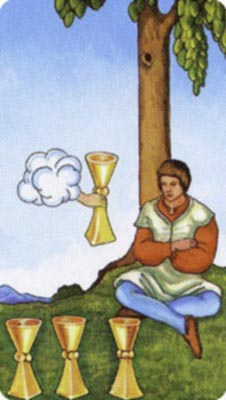 Four of Cups
Five of Cups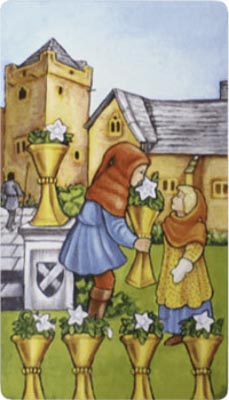 Six of Cups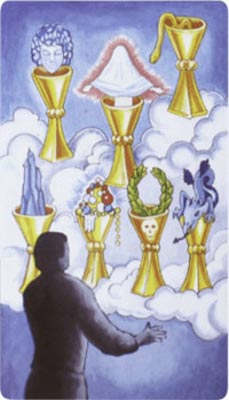 Seven of Cups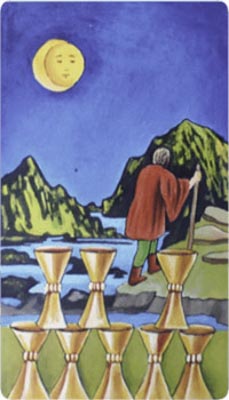 Eight of Cups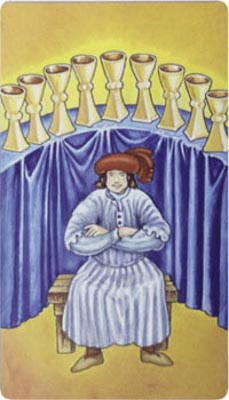 Nine of Cups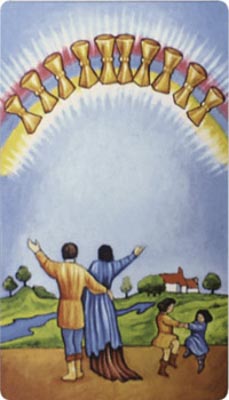 Ten of Cups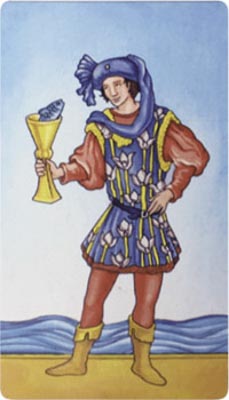 Page of Cups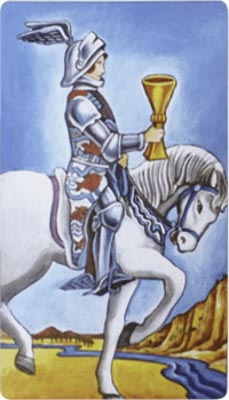 Knight of Cups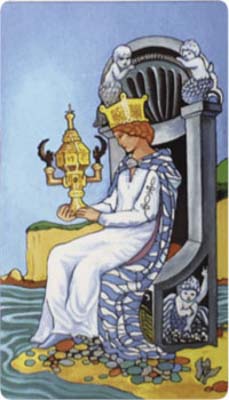 Queen of Cups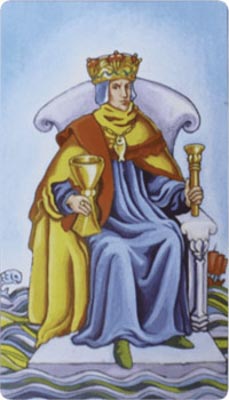 King of Cups
Interpretation of Cups in Divination
Element and Symbol of the Suit
Cups in Tarot correspond to the element of water and are traditionally associated with the water signs of the Zodiac — Pisces, Cancer, Scorpio. This mutable, lively, adaptable, receptive, and illogical element is imbued with mysterious magic, fully unveiled in the interpretations of the Suit of Cups.
The symbol of the suit is the Golden Cup or Chalice, filled with nectar. It represents the magical Grail, offering immortality, abundance, and eternal youth.
In a standard deck of playing cards, the Cups correspond to the Suit of Hearts.
The magical essence of Cups is tied to the legendary Holy Grail, a symbol of immortality and eternal youth. Knights embarked on quests in search of this sacred relic, and during feasts, would clash their cups together, causing the wine to spill over and mix, thereby preventing the secret addition of deadly poison. This is why the Suit of Cups traditionally symbolizes openness, sincerity, and trust among people.
Core Idea of Cups
The Suit of Cups is closely linked to the emotional aspects of life, the arts, and creative energy. Nuances of inner emotions and feelings are examined as the motives and underpinnings of an individual's actions and decisions.
Cups reveal the power of emotions, often steering our lives, and have more to do with intuition and premonition than with logic and facts. It's a realm of sensations, daydreams, and fantasies, passions and feelings, where a mere step separates joy from anger.
That said, Cups are considered the happiest suit in Tarot, as they most often embody positive emotions — joy, love, family, pleasure, emotional comfort, coziness, harmony, friendship, and uplifting desires and dreams.
Jealousy, animosity, and conflicts are more commonly found in the suit of Swords. The imagery on each Cup card not only provokes thought about one's own emotional experiences but also helps better understand the people around us.
Key Meanings of Cups
1. Emotional Events
The suit of Cups has the most optimistic interpretations in readings. Most often, these are happy and joyful situations and events — kind and loving people around, a blissful romance, a joyful feast, a familial union, healing, robust health, and genuine friendship.
This is the joy of connection, kindness, strong bonds, fulfilled dreams, and complete satisfaction. In essence, it's the good and the beautiful that make life joyful.
2. Friendships and Family Ties
Cups often speak of friendship and family ties, and can describe one's immediate circle—loved ones, parents, children, friends, colleagues. They frequently point to an emotionally supportive and empathetic individual on whom you can rely in difficult situations, for emotional backing, consolation, and other kinds of aid.
3. Feelings and Experiences
Each of us cycles through a plethora of emotional states throughout the day without dwelling on them. A cup filled with the precious liquid of emotions crystallizes these experiences into a tangible form, enabling better understanding.
4. Detachment from Reality
Cups can sometimes warn that a person is overly enthusiastic about a life situation, ignoring or refusing to see its reality. Or that advice and care are not always wise and beneficial for the querent.
5. Various Facets of Emotions
Cups can be full—indicating the fullness and sincerity of emotions — or overturned, signifying disappointment, sadness, hurt, emotional exhaustion, and loss of energy. To fully interpret these, other cards in the reading must be considered to determine the nuances of the prediction.
The Significance of Cups in Love Readings
Though Cups touch upon all facets of emotional life, most seekers are eager to divine what the cards predict about love and relationships. When upright and well-aspected, Cups herald the blossoming of heartfelt emotions, the cessation of romantic woes, enduring partnership, and profound love.
Still, the presence of Cups in love spreads often signals a need to focus on one's emotional well-being and invest more in personal relationships. When Cups appear, Destiny and fortune are already tilling the soil for emotional growth and uplifting experiences, thereby offsetting the unfavorable implications of other cards.
Significance in Money and Career Spreads
In business spreads, Cups are considered one of the most enigmatic and "tricky" suits. On one hand, Cups can be a favorable omen not just for romances, but for commercial ventures as well.
The suit of Cups predicts work that is a labor of love, generous gifts, windfalls, inheritances, profits, and financial serendipity. A lot of emotional investment goes into the work, decisions are made intuitively, and there's emotional uplift from achievements, fame, and fortune. A cozy home and family support serve as a "stronghold," enabling one to tackle external challenges and overcome them successfully.
That said, let's not forget: money prefers silence. To maintain and solidify prosperity, calculation and decisive action are essential. If one is immersed in their emotional world, engaged in soul-searching, then chances of substantial earnings are slim. In such cases, one may commit business blunders, get lost in daydreams, indulge in impulsive spending, and make spontaneous decisions.
So, in business and financial spreads, it's crucial to closely examine your behavior to discern what the Cups suit is warning against. An especially troubling sign is the presence of multiple Cups cards in a spread about work and finances. This often suggests being overwhelmed by emotions, to the point of lacking a clear assessment of the situation. The exception being artists—here, strong emotions are precisely what fuel creativity.
Who Do Cups Represent?
Physical Appearance
It is believed that the numbered Tarot cards depict situations, events, and emotional states. The court cards—Pages, Knights, Queens, and Kings — relate to relationships and often correspond to specific people in our lives.
People represented by the Cups generally share a physical type — blond, redhead, or gray hair; light brown, green, blue, or gray eyes; and fair skin.
Character Traits
The Cups suit describes sincere, charming, agreeable, non-conflictive, creative, and generous individuals who act out of love and compassion for others, rather than self-interest.
Such people are easily moved and emotional, can be passive and indecisive, sentimental and sensitive, caring and compassionate. They easily adapt to others, love to daydream and float in their imaginations. These are artistic intellectuals, connoisseurs of beauty, creative souls who are prone to infatuation.
But don't mistake sensitivity for weakness! A person of the Cups suit can boil over, lash out in anger, stand their ground and defend when there's a valid reason — for example, if something dear to them is in jeopardy.
Yet, after the storm and frothy waves, calm and tranquility return — Cups individuals know how to maintain their emotional stability and inner peace, regardless of the circumstances.
Professions of Cups
Professions that the suit of Cups typically represents in a spread:
All professions related to art and creativity (theater and film actors, poets and writers, artists and musicians, showmen)
Service industry workers
Lawyers
Medical professionals
Academics and researchers
Philanthropists
Diplomats
Also, any "maritime" professions are connected with the suit of Cups — divers, swimming coaches, fishermen, sailors, and so on.