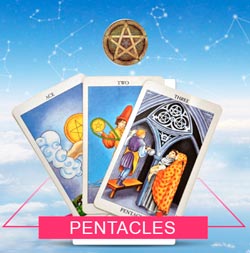 The Suit of Pentacles in Tarot governs the material aspects of life. This is the realm of money, achievement, power, the fruits of labor, bountiful harvests, and robust health.
In a reading, Pentacles promise stability, growth, and prosperity across all life spheres, also reflecting the process of accumulating wealth — a slow, step-by-step journey toward coveted goals. Every action is evaluated in terms of its practicality and benefit.
All Cards of the Suit of Pentacles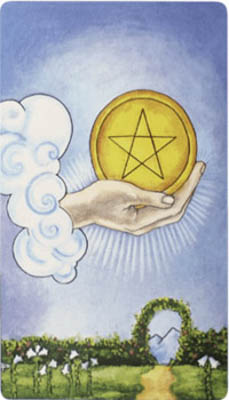 Ace of Pentacles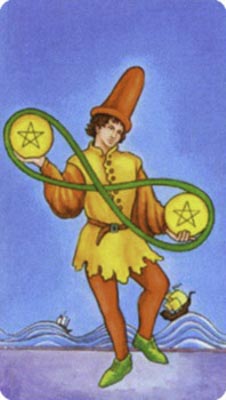 Two of Pentacles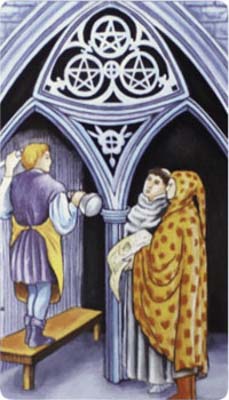 Three of Pentacles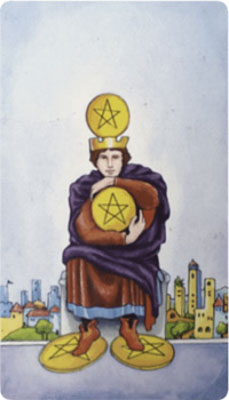 Four of Pentacles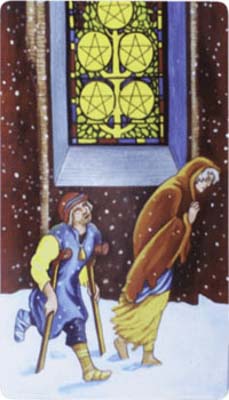 Five of Pentacles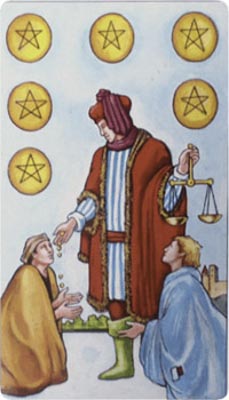 Six of Pentacles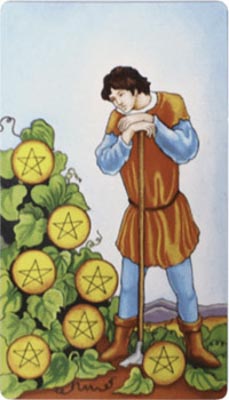 Seven of Pentacles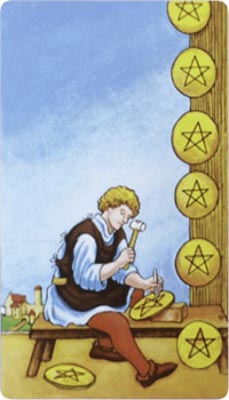 Eight of Pentacles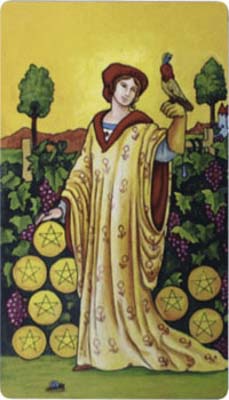 Nine of Pentacles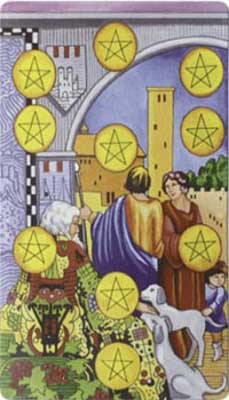 Ten of Pentacles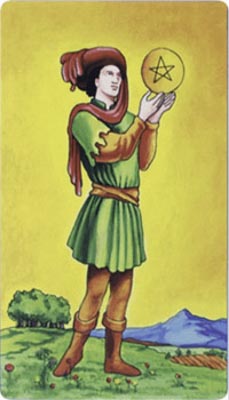 Page of Pentacles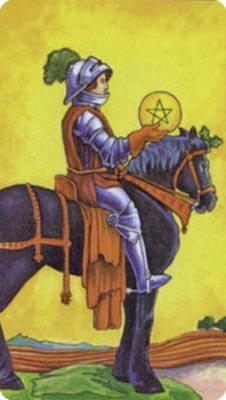 Knight of Pentacles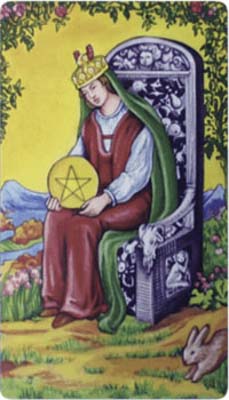 Queen of Pentacles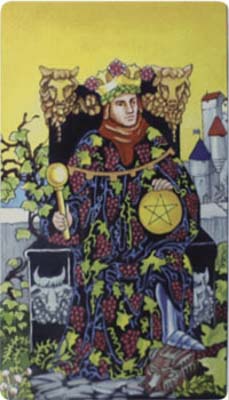 King of Pentacles
Interpreting the Pentacles in Divination
Element and Symbol of the Suit
In Tarot, Pentacles are associated with the Earth element and traditionally linked to the Earth signs of the Zodiac — Taurus, Virgo, Capricorn. The fertile and generous Earth is static and unchanging, but within it lies immense power and wealth. It resonates deeply with human actions and abundantly rewards with fruits—money, health, business successes, and happiness in love.
The symbol of the suit is a resounding golden coin bearing the five-pointed star of Solomon — as a magical representation of material abundance, stability, and riches.
In a standard deck of playing cards, Pentacles correspond to the suit of Clubs.
The Core Concept of Pentacles
The Suit of Pentacles is the "golden" suit of the Tarot, tied to abundance, property, earnings, influence, and physical well-being. The magical energy of Pentacles enables creative thought to manifest into something real, tangible, and practical — fame, material comfort, familial bliss, and elevated social standing.
Key Meanings of Pentacles
1. Big Money, Big Opportunities
Most often, Pentacles in a layout signify material gain that the querent can achieve. This means that the individual is capable of resolving financial issues as well as attracting, retaining, and multiplying financial gains. At the same time, this serves as advice not to rest on one's laurels — significant capital demands oversight. Money loves to be counted!
2. Gifts of Fate
Drawing Pentacles in a spread is like receiving a wink from Lady Luck. These cards often foretell the gain of material wealth, career advancements, winnings, gifts, rewards, inheritances, and investments.
They also promise the purchase of property or an improvement in living conditions. In business, sponsors will emerge; a romantic partner will offer a generous gift as a tangible affirmation of affection. Money will be found for a new home, or an unexpected opportunity for a high-ranking job will suddenly appear. Fortune quite literally sails into your hands!
3. Energy Balance
Pentacle cards in a spread also suggest that material well-being is currently taking center stage in one's life and thoughts. It's a good sign if Pentacles are evenly balanced by other suits — this implies prosperity and harmony in all areas of life.
A heavy concentration of Pentacles in the spread is not particularly auspicious; it denotes a fixation on material aspects, neglecting other spheres of life.
Similarly, a dominating suit of Pentacles can be a warning sign that the person is expending an enormous amount of energy but is yet to see results. The complete absence of Pentacles in a spread signals that the person doesn't give much thought to material success and should take steps to focus more on this area.
The Meaning of Pentacles in Love Readings
In a love reading, the suit of Pentacles predicts a profitable marriage and a relationship focused on comfort and financial well-being. Emotions are present, yes, but the romantic ideal of love in a humble shack doesn't appeal. Both parties are keen on building a stable financial foundation, not just for themselves but for their descendants — perhaps even launching a family business.
The suit of Pentacles also points to a grounded approach to relationships, where both partners support each other and are willing to invest emotional and material resources into their union.
However, one should remember that every coin has two sides. Reversed Pentacles can warn that the person is inclined to put a price tag on everything, including love. If they give a gift, they expect the partner to "repay" their attention in some form. Love, in this case, is measured by the amount of money spent — the more invested, the more one is loved. Reversed Pentacles can also indicate someone who is emotionally and materially stingy.
For single individuals, Pentacles call for balancing the desire to receive with the ability to give.
Meaning in Spreads on Money and Career
Pentacles possess a magical quality — they have the knack for turning any endeavor into gold coins. Hence, in business-oriented spreads, the suit of Pentacles is always a herald of material success, realized ambitions, career advancement, lucrative contracts, financial prosperity, and elevated social status — all accomplished through hard work and dedicated efforts. The soil will yield rich harvests if properly tilled and sowed. When dealing with a problematic situation, the Pentacles suggest that the issue can likely be resolved through monetary means or other advantages.
Upright Court Pentacles may indicate the presence of trustworthy and honorable business partners, with whom one can collaborate and build a profitable enterprise. Alternatively, the querent might be in the company of an influential and affluent individual capable of providing valuable assistance. Conversely, in their reversed position, Pentacles can point to a scam artist, a person envious of your fortune, or a thief eyeing your hard-earned money.
Who the Pentacles Represent
Appearance
People represented by the suit of Pentacles typically possess distinct physical characteristics — dark or brown hair, sometimes with a faint reddish hue, and dark or tea-colored eyes. These individuals are solid, grounded, and prudent, with a robust build and of medium or shorter stature. They are known for their smooth, slightly deliberate movements, a pleasant and confident voice, and a presentable exterior.
For the most part, Pentacle people have a knack for domesticity, the ability to forge meaningful connections with important people, and a talent for making money. They prefer to conserve their energy rather than fritter it away on idle chit-chat, conflict, and worry. Their driving force is business, their passion project, a healthy bank balance, a grand and comfortable home, and a stable life.
Personality Traits
The suit of Pentacles describes an influential, punctual, self-sufficient, resourceful person who is conscientious about their health, prosperity, and standing on the social ladder. More likely than not, this is a successful entrepreneur or a savvy businessperson, to whom money seems to "stick" almost magically. They are practical and frugal to a fault, yet not stingy, able to be generous with those they truly care for.
All individuals represented by the suit of Pentacles in a reading value money, prestige, and social status. They see no need for restless agitation or dramatic life changes. They are inclined toward meticulousness, order, and precision in their affairs. Endurance is their strong suit, as they tenaciously strive to achieve a decent quality of life and develop deep attachments to what they possess.
Pentacle Professions
In Tarot spreads, Pentacles predict success across various lines of work, but the following professions are particularly associated with this suit:
Any roles in the financial sector — bankers, businessmen and women, accountants, economists, cashiers
Politicians, high-ranking officials, lawyers
Workers in manufacturing and commerce, supply managers
Builders, architects, real estate agents
Carpenters, furniture makers, fashion designers, chefs, farmers
Plumbers, electricians, handymen