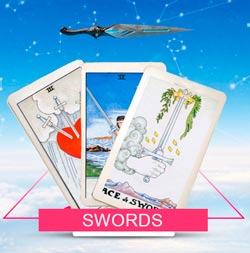 The Suit of Swords in Tarot represents the power of intellect and reason, ambitious aspirations, information, and innovation. When Swords appear in a spread, they indicate the triumph of reason over emotions and suggest a rational and logical approach to solving complex and sometimes painful life situations.
Swords are the most potent and aggressive suit in Tarot. More often than other suits, they point to states of tension, conflicts, concerns, danger, and anxieties manifesting in some life area.
All Cards of the Suit of Swords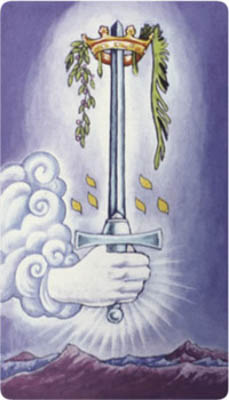 Ace of Swords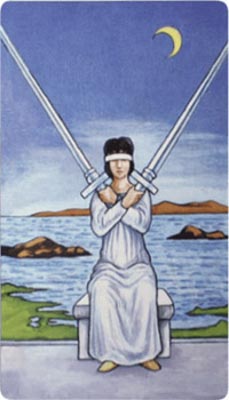 Two of Swords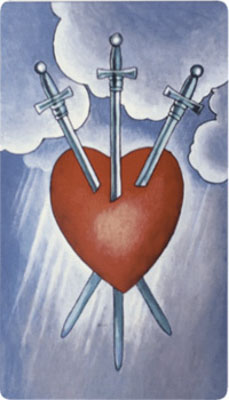 Three of Swords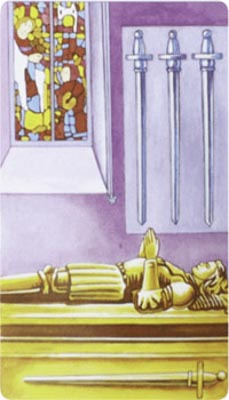 Four of Swords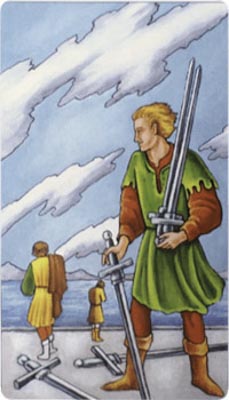 Five of Swords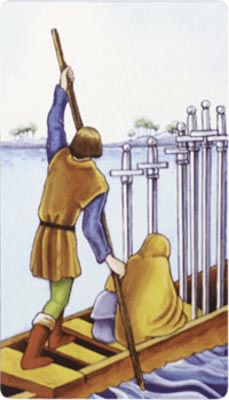 Six of Swords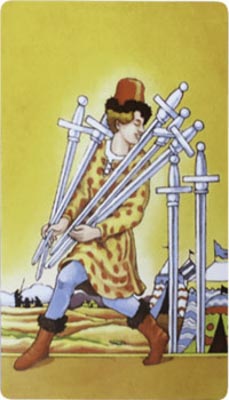 Seven of Swords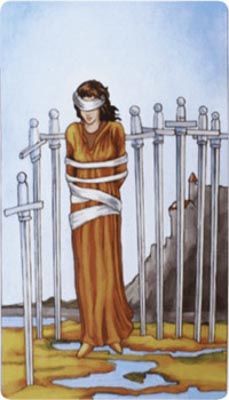 Eight of Swords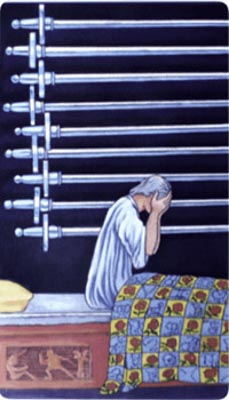 Nine of Swords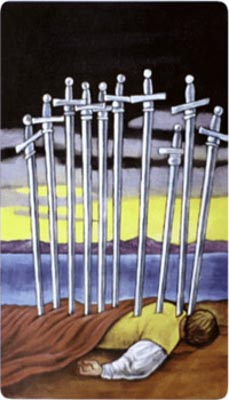 Ten of Swords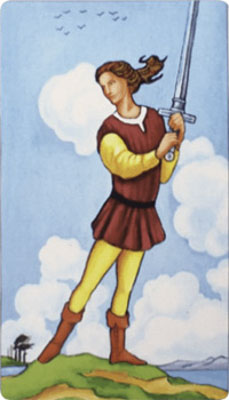 Page of Swords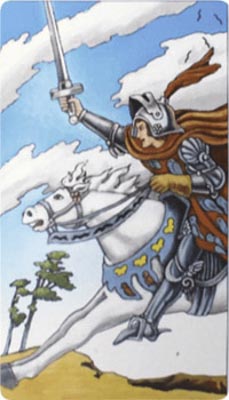 Knight of Swords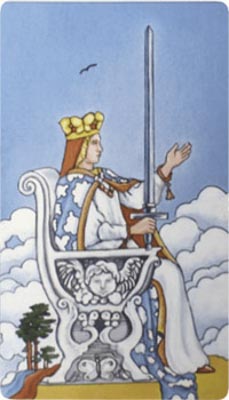 Queen of Swords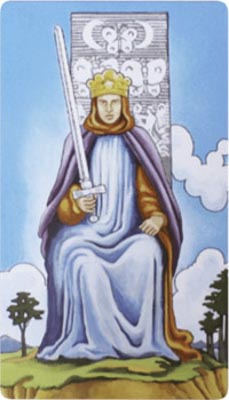 King of Swords
Interpreting the Swords in Tarot Reading
Element and Suit Symbolism
The Swords in Tarot belong to the element of Air and are traditionally linked with the air signs of the Zodiac — Aquarius, Gemini, Libra. Air — light, fresh, free, and ever-present — feels like both a breath and a breeze, bestowing life and clarity of mind.
The symbol of the suit is the steel blades soaring through the air, representing the mind's ability to rise above life's messiness. The weapon as a symbol speaks to power, the defense of interests, the quest for authority, and the establishment of order.
In playing cards, the Swords correspond to the suit of Spades.
Core Concept of Swords
Motto: "Triumph of spiritual strength in the pursuit of truth"
The suit of Swords gears you up for struggle and overcoming challenges. It confidently declares that you can conquer if you harness your emotions and approach problems with conscious intent.
The sharp swords on the Tarot cards mercilessly slice through false ideals, illusions, and delusions, freeing life from the husk of deceit and the "rose-colored glasses," allowing a fearless confrontation with objective facts and clear arguments.
The double-edged sword suggests that the querent may need to break away from outdated ties and constructs, engaging in battles not only with external foes but also with inner complexes and fears. In this lies the liberating power of the suit of Swords.
Quick to respond to changing situations and take action, the suit of Swords sets the overall tone and direction in interactions with others. In today's world, the Swords in Tarot also stand for innovations and the "tools" for receiving and transmitting information—like advanced technology, television, and the Internet.
Key Meanings of Swords
1. Conflict Situations
In a Tarot spread, the suit of Swords signifies confrontation, assertiveness, and the ability to resist. When these cards appear, they predict victory over competitors and rivals, as well as the inevitable tensions and frustrations that come with teamwork. In such cases, the Tarot suggests channeling this energy into productive endeavors.
2. Crystal Clarity on Pressing Issues
Swords often serve as a positive sign, offering clarity on a matter of concern, helping to solve a complex problem, overcoming doubts, or bringing a relationship with a partner to a clear conclusion. With a single decisive stroke, Swords cut through the "Gordian knot" of problems and doubts, freeing you to move forward.
3. "With a Shield or On It"
A well-placed Sword card in a spread promises victory, resolution of conflicts and disagreements, and suggests a clever way out of a tricky situation — sometimes even indicating a new birth, whether of an idea, a project, or a child.
Reversed Swords indicate a challenging and currently unresolved situation, up to and including defeat, separation, and shattered plans.
Meaning of Swords in Love Spreads
In the realm of love, Swords suggest that logic and calculation should be the primary guides, acting like a gust of cold wind on romantic relationships. A spread dominated by the suit of Swords often tinges relationships with the troubling hues of anger, vengeance, and jealousy, warning of bad news and events, excessive demands between partners, and the appearance of rivals. Relationships here might involve much drama and conflict but lack emotional depth — Swords focus on the quantity of interactions, not their quality, resulting in superficial and short-lived relationships.
In love readings, Swords always serve as a restless and crisis-warning sign, although the outcomes of such crises could be positive. Yet, even when problems are not so significant or are somewhat mitigated by other cards, Swords still bring about worry, disappointment, and emotional turbulence. To harmonize and sustain love, it's essential to analyze other cards in the spread and understand the roots of the issues. Sometimes, however, Swords in love readings promise the assistance, advice, and protection of a serious and wise individual.
Meaning in Career and Money Spreads
In business and career readings, the suit of Swords reflects not only life's challenges and setbacks but also their resolution, thanks to mental strength and the ability to see things in their true light. The suit also speaks of inner discipline, loyalty to order, and responsibility, which enables effective work, career success, and earned authority.
The abundance of Swords in a spread signals hostility and discord, a heightened tension in the business realm where enemies lurk around every corner, requiring you to be perpetually on the defensive against assaults and schemes from adversaries or competitors. However, the battle-ready energy of Swords often serves as a clarion call to seek out a strong ally and shift from defense to full-on offense—quite literally, to draw your sword and claim what's rightfully yours.
That said, this suit can also indicate that one might be "overthinking" things, and the dangers are far less ominous than they appear. A complete absence of Swords in spreads focusing on work and finances suggests it's time to engage your intellect, making decisions based on facts rather than emotions, personal desires, or circumstances.
What Swords Represent in People
Appearance
When Swords appear in a spread, they imply authoritative, stern, and composed individuals for whom honor and justice take precedence. Sharp intellect, a quest for truth, critical thinking, and a tendency towards severity (and sometimes even aggression) can make social interactions challenging for them, often leaving them feeling lonely or misunderstood.
People symbolized by the suit of Swords typically have dark hair and almost black eyes. They possess precise, quick movements, displaying both endurance and constant vigilance. Fit and athletic, they make it a point to always stay in shape.
Character Traits
The Swords suit describes straightforward, somewhat reserved, and resilient people capable of clear, rational thought. They aren't prone to daydreaming, mistrust grandiose plans, and always rigorously analyze situations before making decisions and taking action. Hence, their lives contain far fewer mistakes, and their advice is worth its weight in gold.
While interactions with these individuals may not always be enjoyable — they speak unvarnished truths, disregarding social niceties and are too preoccupied with the pursuit of truth—they reign supreme in the domains of intellect, knowledge, and communication, thereby capturing the hearts and minds of those around them.
People of the Swords suit make efficient employees, computer whizzes, and tireless researchers. Due to their nature, they might sometimes wander off the straight and narrow to explore criminal careers. They are naturally fighters and strategists — aggressive, cunning, and self-serving. They bow only to authority and power, respecting only those who are physically or morally stronger than they are.
Swords in Professions
Swords endow individuals with sharp intellect, strong will, and the ability to quickly "mine" and process information. In spreads, the Swords suit usually represents the following professions:
Scientists, thinkers, philosophers
Members of security forces, military personnel, emergency service workers, arms dealers
IT specialists, telecommunication and broadcasting professionals
Judges, lawyers, tax inspectors
Politicians, government officials
Surgeons, healthcare professionals<
E-commerce sector
Journalists, translators