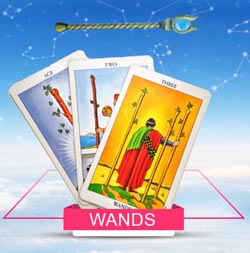 The Suit of Wands in Tarot – it's a symbol of non-stop motion and personal achievements. Wands govern creativity and the professional sphere of life, including education, skill development, career, vocation, fame, and reputation.
The Suit of Wands – it's the magical fire of life and energy, the enchanted wellspring of strength that burns within each of us. Born as a mere spark, it grows until it turns into a bright flame that completely captivates the mind. Then, the sparks of new ideas and plans burst forth, allowing for creative expression and enjoyment in the act of creation.
All Cards of the Suit of Wands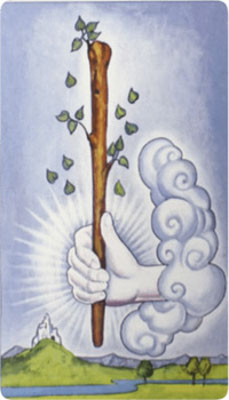 Ace of Wands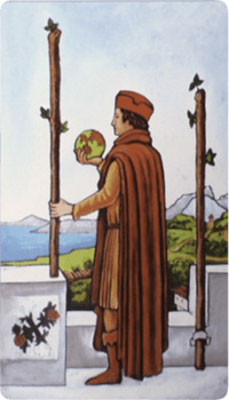 Two of Wands
Three of Wands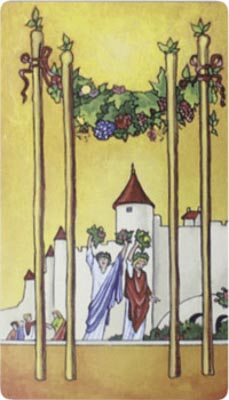 Four of Wands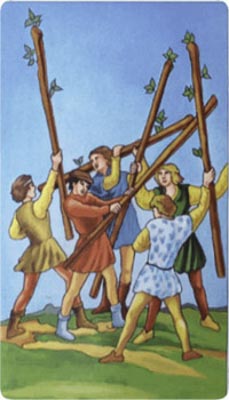 Five of Wands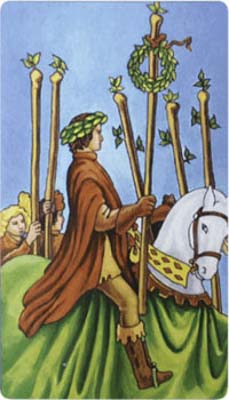 Six of Wands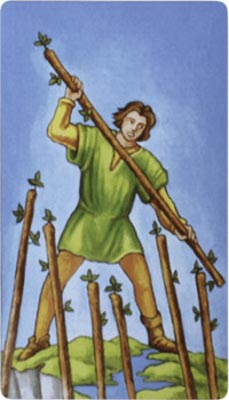 Seven of Wands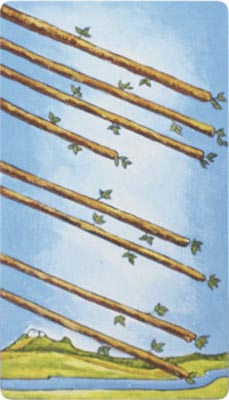 Eight of Wands
Nine of Wands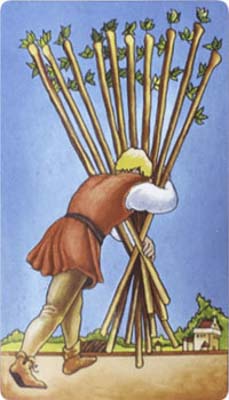 Ten of Wands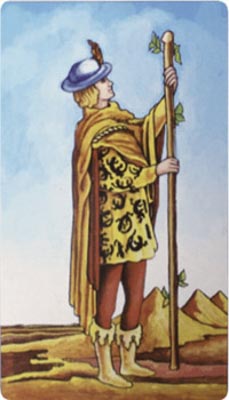 Page of Wands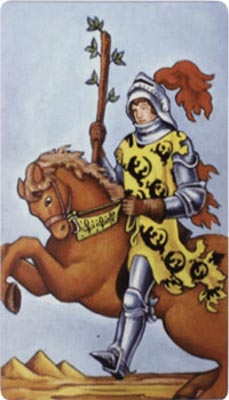 Knight of Wands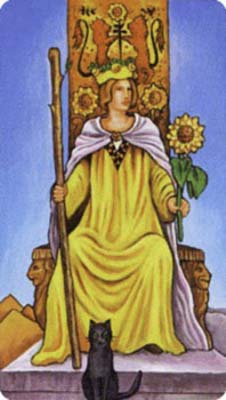 Queen of Wands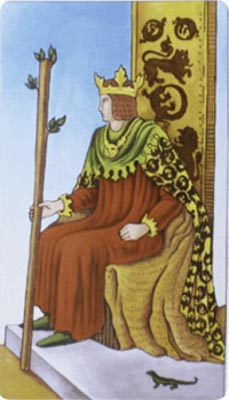 King of Wands
Interpreting Wands in Divination
Element and Symbol of the Suit
Wands in Tarot correspond to the element of fire and are traditionally associated with the fire signs of the Zodiac – Aries, Leo, Sagittarius. The warm, living fire sometimes resembles a cuddling kitten, and at other times – a roused, furious predator. Fiery Wands have the capacity to both warm and burn, turning into an uncontrollable force.
The symbol of the suit is a royal scepter, a priestly staff, or a sage's rod. It is a potent emblem of power, stability, and the acquisition of wisdom.
In playing cards, the Suit of Wands corresponds to the Suit of Clubs.
The Main Idea of Wands
The Suit of Wands is closely related to career, work, finances, and professional achievements, symbolizing the manifestation of all "fiery" qualities of character — impulsiveness, impetuosity, speed, and passion.
This is the suit of ambition, enterprise, discoveries, and bold plans. It fosters creative growth, inspiration, and self-realization. Perhaps there's a lack of experience here, but there is plenty of energy, a desire to explore the unknown, and to grow.
Wands represent a flash of inspiration and stirring ideas. Like the sun, Wands express a person's temperament and willpower, turning them into a veritable torch with a sparkle in their eyes, immense inner drive, and a desire to act. This fiery mindset is a "strong" ally, enabling you to achieve your aspirations.
Key Meanings of Wands
1. Actions and Decisions
The Suit of Wands represents a fiery spirit that propels a person forward, sweeping away obstacles in their path, striving for success and recognition. In a reading, Wands signify readiness to make decisions and take action.
2. Point of Balance
However, Wands can often "go overboard," turning determination into empty stubbornness and fixation, decisiveness into recklessness and haste, leadership into harsh domination, and fearlessness and self-confidence into a desire to solve problems through sheer force. In such cases, one is unwilling to compromise and literally bangs their head against the wall, ignoring invitingly open doors. So the key to success? Balance. For Wands, the issue of "finding equilibrium" is almost as important as it is for a tightrope walker.
3. The Risky Nature
A prevalence of Wands in a spread signals the querent's determined approach to matters at hand. The desire for success is so great that they're willing to take risks or even embark on an adventure. But often, the risk pays off—yielding thrilling emotions and quite handsome dividends in the form of significant gains.
4. The Flip Side of the Coin
If Wands appear reversed or in an unfavorable position, it's a warning that the burden of responsibilities might be overwhelming. It's better to slow down and adjust your plans. Wands can also hint at ostentatious busyness that doesn't yield the desired results.
Meaning of Wands in Love Spreads<
Wands in love readings speak of a strong passion between partners, a force that practically fuses their union. But if multiple Wands cards appear, the frenetic temperament and insatiable passion can drive both to the point of frenzy and exhaustion. Most likely, such exhausting relationships won't last long.
However, the complete absence of Wands is not a good sign either. It might indicate a fading of feelings between the partners, a lack of mutual attraction and that vital spark. A "reboot" is necessary for feelings to refresh and shine anew. Thus, the most favorable interpretation of a love reading is one that shows a harmonious balance among the suits. Any imbalance can signify a problem within the couple.
Significance in Money and Career Readings
In the realm of business and career readings, Wands, brimming with creative energy, are considered one of the most auspicious suits. They herald the onset of new and promising projects, successful negotiations, and the sealing of lucrative contracts.
The individual can clearly see their prospects, passionately pursues their objectives, mobilizes to overcome obstacles, attains financial well-being, and secures a respectable place in society. The suit of Wands embodies relentless forward motion, talent development, progress, innovation, skill enhancement, and the growth of practical abilities.
Wands urge you not to wait for help from others, but to forge your own success through sheer determination and hard work. This is the suit of fortunate entrepreneurs, the ones often described as "self-made," and of dedicated employees whose lives are filled with active endeavors and responsibilities.
Wands also represent the fastest-moving suit — dominant Wands in a reading indicate rapidly unfolding events.
People Embodied by the Wands
Appearance
The suit of Wands depicts people who are quick to act, enterprising, with sharp business acumen and nimble, keen minds. They value family and close relationships, have a taste for luxury, respect high status, and possess an explosive temperament. Even when young, they are described as "bright and early risers".
In divination, people represented by Wands often have striking features — dark, almost black or fiery red hair; eyes that are either dark or flecked with reddish specks; and a complexion that's either fair or sun-kissed, frequently dotted with freckles.
Character Traits
The Wands characterize individuals who are self-confident, active, enterprising, decisive, straightforward, goal-oriented, and passionate about their profession. These people pour energy, zeal, and creative spark into every endeavor. On the downside, they can be egocentric, prone to dominance, risk-taking, and impulsivity, always wanting to have it all here and now. Yet, Wands have a noble, generous, and luminous soul, which means people can always count on their moral and financial support.
Personal well-being, reputation, and social standing are of paramount importance to those under the influence of the Wands. As natural-born leaders, they are endowed with incredible charisma, an ability to articulate beautifully and persuasively, and a knack for inspiring those around them.
Professions of Wands
Wands imbue individuals with optimism, bravery, resilience, audacity, and the ability to quickly size up situations and make sound decisions. This potent charisma effortlessly wins people over and leads them to follow. The innate potential of the Wands suit is conducive to thriving in the following professions:
Merchants, businesspeople, entrepreneurs, leaders
Programmers, IT specialists
Political figures, orators
Athletes, coaches
Firefighters, rescuers, police officers
Scientists, naturalists, inventors
Travelers, tour operators