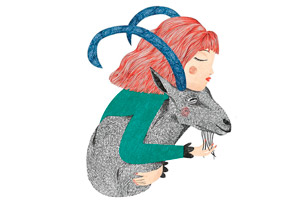 Aries

Taurus

Gemini

Cancer

Leo

Virgo

Libra

Scorpio

Sagittarius

Capricorn

Aquarius

Pisces
December 22 - January 20
Capricorn's Planet: ♄ Saturn.
Disciplined, thoughtful, and serious from birth, a Capricorn child displays admirable patience and willpower. Their composure is such that at times it feels like you're not looking at a toddler, but rather a wise elder with centuries of knowledge and experience. This commitment to order and persistence remains with the Capricorn child throughout their life, helping them calmly navigate life's challenges and stay on track towards their desired goals.
Capricorn Infant
A newborn Capricorn is surprisingly tranquil. You're unlikely to witness explosive tantrums from this child. From infancy, they are content with the attention they receive, without requiring endless dances around their crib from their parents. The solitude of a Capricorn child doesn't unsettle them. On the contrary, during such moments, their serious little face takes on an even more contemplative and profound expression. However, in the presence of a large number of people, especially strangers, they feel uncomfortable and guarded.
Alongside their emotional calmness, the Capricorn baby possesses a remarkably mature gaze from the very beginning, which becomes their primary means of communication with their parents. If something displeases the Capricorn child, they won't throw loud tantrums. A perceptive look towards their parents is enough to express their discontent, and you'll understand it all without unnecessary words. Similarly, they will give you a disapproving look if, in the midst of parental affection, you become overly fawning and cooing.
At every stage of their development, the little Capricorn requires a warm and nurturing atmosphere at home. Even in the early months, a sense of inner restraint and tension is evident in babies born under this Zodiac sign. Therefore, parental love and care are the best means to help the Capricorn child relax and flourish.
Raising a Capricorn Child
As a Capricorn child grows older, their inclination towards order and consistency becomes evident. If they become engrossed in a particular game, they can quietly spend hours and days immersed in it. There's no need to make them clean up their toys; they will independently organize and place them in their designated spots. In diligence, patience, and responsibility, the little Capricorn surpasses not only their peers but also many adults.
It's no wonder that children with such a serious demeanor mature earlier than their counterparts. The Capricorn child quickly loses interest in carefree play and shifts towards more substantial activities. They enjoy engaging in activities that have practical value and tangible results since this little achiever has a materialistic nature. Hence, the Capricorn child's enthusiasm for various crafts, tools, and applied arts.
For the Capricorn child, time follows a strict schedule, and their actions are methodical and well thought out. From a young age, they exhibit steadfastness in their beliefs and tenaciously defend them. Moreover, they have the ability to clearly articulate their desires, sparing you from guesswork. If you attempt to persuade the young Capricorn to compromise on something they consider of fundamental importance, you will only be wasting your time. They may temporarily give in, but in the end, they will still achieve what they desire! However, this is not surprising; children born under this Zodiac sign progress towards their goals in small steps, without rushing and paying no heed to obstacles, temporary setbacks, or the opinions of others. The Capricorn child is not prone to impulsive decisions and impresses with their remarkable self-control. Whatever endeavors this young worker undertakes, they do so methodically and consistently.
The boundless attachment of the Capricorn child to their home and loved ones is truly valuable. Their reverent attitude towards family and loyalty to their parents remains with them throughout their lives.
The independence of the young Capricorn does not exclude active involvement of adults in their upbringing. Emotional restraint is characteristic of children born under this Zodiac sign—they strive to conceal their feelings. As a result, constant internal tension sometimes manifests as despondency and depression.
To soften this character trait, it is crucial for parents to build a trusting relationship with their Capricorn child, distract them from gloomy thoughts, instill an optimistic view of the world, and encourage participation in sports, which greatly helps release emotions. Additionally, it is within your power to relieve your diligent child from the burden of excessive responsibility and obligations that the Capricorn child tends to shoulder at a young age.
Capricorn Child in Interaction with Peers
The Capricorn child usually prefers solitude or the company of their closest loved ones to noisy gatherings. Typically, their circle of regular companionship is limited to one or two friends whom they trust completely.
In unfamiliar company, the Capricorn child behaves reserved, modest, and even aloof. Nevertheless, they develop good relationships with their peers: they are polite, pleasant in conversation, respectful of others' interests, and never intrusive.
In team games, the Capricorn child is quite capable of taking on the role of a fair judge (which they are often chosen for). They carefully study the rules and ensure that each participant strictly adheres to them.
Capricorn Child in Education
The diligent and responsible Capricorn child appreciates a school environment that is orderly and structured. Thanks to their diligence and hard work, they are capable of achieving good results in any subject, and the spirit of healthy competition and well-deserved high grades from teachers serve as excellent motivating factors in their studies.
The only thing that can negatively affect their academic performance is the characteristic slowness associated with this Zodiac sign. For successful learning and consolidation of knowledge, the Capricorn child sometimes requires more time than other students.
If your child is experiencing difficulties in their studies, never scold them, and most importantly, avoid comparing them to their classmates. The ambitious Capricorn child sensitively perceives mentions of others' achievements and tends to develop complexes about it. Support your child, help them with challenging subjects, and make up for missed lessons together.
Resourceful and consistent, the Capricorn child has a realistic view of the world from an early age. Despite their inherent caution, they prefer taking action rather than waiting for convenient opportunities to come their way. Their long-term goals often revolve around professions that offer high financial rewards. However, Capricorn children grow up to be sensitive and caring individuals who never forget to visit their parents.

More Capricorn horoscopes: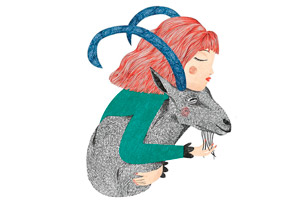 Capricorn Man
Capricorn Woman
Capricorn Compatibility
Capricorn Child
Capricorn Career
Capricorn Love
Capricorn Lucky Stones
Capricorn Health
Capricorn Constellation
Choose a Zodiac sign

Aries

Taurus

Gemini

Cancer

Leo

Virgo

Libra

Scorpio

Sagittarius

Capricorn

Aquarius

Pisces