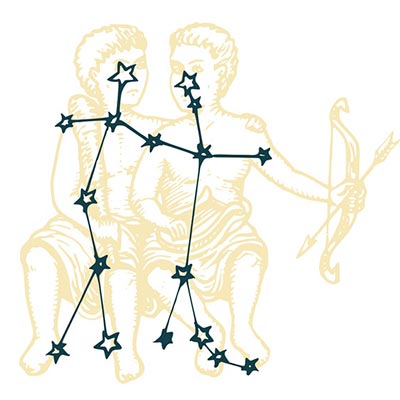 Aries

Taurus

Gemini

Cancer

Leo

Virgo

Libra

Scorpio

Sagittarius

Capricorn

Aquarius

Pisces
May 22 - June 21
Gemini's ruling planet: ☿ Mercury.
The zodiac constellation Gemini (Latin name Gemini) has been known since ancient times. It was named after the Dioscuri brothers from ancient Greek mythology. The twin brothers, participants in the Argonauts' quest for the Golden Fleece, were called Castor and Pollux. The two brightest stars in the constellation Gemini bear their names.
Within the constellation Gemini, there is a remarkable astronomical object - a binary star system consisting of a white dwarf and a red dwarf that orbit each other closely. These stars are so close to each other that their surface materials mix and flow into one another. However, the ancient Greeks, who gave the name Gemini to this constellation, were unaware of this peculiar binary star system since such details cannot be seen with the naked eye from Earth. It is even more intriguing that this constellation bears the name "Twins" due to this incredible coincidence.
The constellation Gemini holds many more unexplained and fascinating elements for astronomers. For instance, a star similar to our Sun resides within it. Many scientists believe that within this stellar cluster, we might have a chance to encounter intelligent beings. In fact, in 2001, a radio message from humans to extraterrestrial civilizations was specifically sent to the constellation Gemini.
Astrology of Gemini
Gemini Months: May, June
Gemini is the third sign in the Zodiac cycle. The Sun enters the sign of Gemini, depending on the year, on either May 20 or 21 and leaves it on either June 20 or 21.
Gemini Season: Spring
Gemini is the third spring sign of the Zodiac. During this time, the Sun shines brightly, resembling the approaching summer. Trees bloom, flowers blossom, and nature delights the eyes with its diversity and ever-changing beauty. This season brings agility, diverse interests, and a passion for travel to the Gemini's character.
Gemini Element: Air
The element of Air embodies lightness and mobility, representing the principles of interaction between people. It's no wonder because air itself symbolizes freedom, the pursuit of absolute equality without boundaries! This most changeable and unpredictable element in astrology governs contacts, communication, and social interaction. The Air element is attributed to three zodiac signs: Gemini, Libra, and Aquarius.
As representatives of the Air element, Geminis excel at adapting to different situations and enjoy change and adventure. They easily make new acquaintances, are pleasant to converse with, possess a lively character, a rich imagination, and they captivate others with their incredible plans and ideas.
Ruling Planet of Gemini: Mercury
Mercury, the winged messenger of the gods, arrives on his light wings and encourages people to speak and debate with one another. In astrology, this planet is responsible for intelligence, learning abilities, thought processes, logic, reasoning, and all forms of intellectual connections and communication between individuals. And, of course, it represents commerce. Mercury's motto is "I am curious!"
Mercury brings relentless curiosity and an insatiable desire to see and learn everything to the character of Gemini, preferably while being in multiple places at once. It is thanks to the influence of Mercury in their horoscope that Geminis excel at working with vast amounts of information, speaking persuasively and fluently, and effortlessly establishing connections with countless people.
Gemini Colors: Rich emerald green, the color of vibrant foliage and lush greenery.
Gemini Metal: Mercury.
Gemini Talisman Stone: Beryl, garnet.
Opposite and Complementary Sign to Gemini in the Zodiac: Sagittarius.
Geographical Places That Align with Gemini
Countries, locations, and cities that possess a similar energy where Geminis will feel at home.
Countries: Belgium, Canada, Lower Egypt, United States of America, Wales.
World cities: Bruges, London, Mainz, Melbourne, Metz, Nuremberg, San Francisco, Versailles.

More Gemini horoscopes: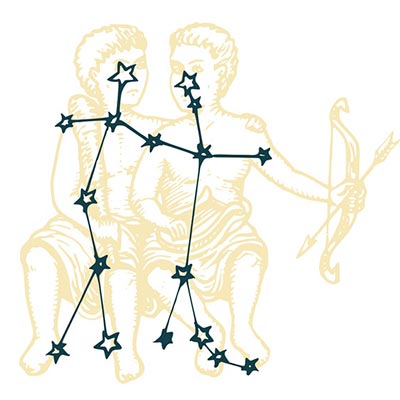 Gemini Man
Gemini Woman
Gemini Compatibility
Gemini Child
Gemini Career
Gemini Love
Gemini Lucky Stones
Gemini Health
Gemini Constellation
Choose a Zodiac sign

Aries

Taurus

Gemini

Cancer

Leo

Virgo

Libra

Scorpio

Sagittarius

Capricorn

Aquarius

Pisces