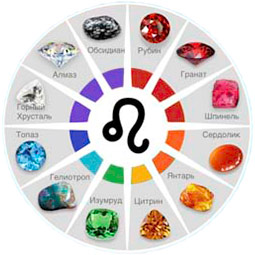 Aries

Taurus

Gemini

Cancer

Leo

Virgo

Libra

Scorpio

Sagittarius

Capricorn

Aquarius

Pisces
Leo Gemstones In ancient China, the lion was the guardian of temple gates and imperial palaces. Later, stone lions were placed at the entrances of cities in other countries. Times change, and it's difficult to understand now who the stone lions, bridges, and squares are guarding. The only things that remain unchanged are the strength and bravery of lions, their pride and grandeur.
Those born under the sign of Leo live not only through battles. They seek love and fortune. Talismanic gemstones assist them in this: ruby, amber, garnet, carnelian, topaz, rock crystal, bloodstone, citrine, diamond, spinel, obsidian, emerald.
Ruby

Ruby glass, ruby laser, Tuscan ruby wine, Schmidt-Rubin rifle. Just by uttering the name of this gem, people feel a surge of power! They used to create glass with gold and copper additives, weapons, and beverages, all with this gem in mind, which is called the "clot of dragon's blood."
Those born under the sign of Leo possess a special allure: they are in the midst of events, they are the center that draws others towards them. And as often happens with stories whose beginnings are unknown, it is unclear whether the ruby took the lion under its patronage or whether the Leo attracted this gem, which embodies its essence.
But true strength is not only about muscles. Ruby instills wisdom and fearlessness in the character of Leo. Ruby is the proud heart that stands guard over Leo's thoughts. Even the fiercest Lions, when they have frightening dreams, feel like little cubs. But in the light of ruby rays, which bring hope for warmth and coziness, no nightmares can scare them.
Amber

The lion lies in golden dunes near the coast, where the sea brings amber, bright like the eyes of a golden beast, like the sand on which the wind sweeps away the traces of powerful paws. Sand, Leo, amber, and the sun shining down on them, they flow into one another. That's why Leo and amber are better off together.
This gem carries the energy of the sun and the sea. Amber is capable of replenishing the strength of Leo and protecting from the evil eye, easily washing away ill intentions just as water washes away dirt.
Garnet

In the tale of a great love written by Kuprin, a garnet bracelet is featured. Its description goes: at the center of the composition is a green uvarovite or grossular, surrounded by five pyrites. These are all varieties of garnet. Kuprin surely knew about this gem's ability to awaken passion. Only strong individuals can master the garnet, and those born under the sign of Leo belong to this group.
Leo is passionate not only in love; they are steadfast and tireless in achieving their goals. These qualities are amplified and nourished by the talisman with garnet, promising Leo victory in their endeavors.
Carnelian

Carnelian assists lovers and cools anger. Leo tries not to succumb to this emotion, but they are proud and self-loving, and in a quarrel, as in love, two are always involved.
Carnelian protects the impulsive Leo from discord and helps them avoid misunderstandings. This gemstone also possesses another quality useful for Leo: carnelian heightens the senses. Especially refined is the sense of touch – by touching the hand of a conversational partner, Leo can understand how they feel about them.
Topaz

Topaz was considered the second gemstone after diamond, but Leo is not satisfied with second place – they must be first everywhere! And brilliance must ensure them a worthy standard of living.
By the way, the word "topaz" translates as "fire" – it was given its name in Sanskrit due to its sparkle. In turn, topaz imparts its fiery sparkle to Leo, primarily in the form of wealth, which it helps them achieve.
A high position always incites envy. Schemes often revolve around the proudly lifted head of Leo. Fortunately, the talisman with topaz, which aids in attaining wealth, can protect Leo from intrigues.
Rock Crystal

In the still-life paintings of seventeenth-century artists, each object had its own significance. Painters depicted joy, wealth, love, futility, pure intentions, and intentions. A wilted rose symbolized decay, a knife reminded of the fragility of human life. But how could purity of intentions and openness be expressed? A cup made of rock crystal conveyed honesty and transparency of thoughts.
Rock crystal, as a symbol of sincerity and openness, will help Leo in conducting business negotiations, opening the hearts of their interlocutors and business partners towards them.
Heliotrope

The word "heliotrope" translates from Greek as "sun turning." Everything related to this celestial body is crucial for Leo. In one of the museums in Dresden, you can see wine goblets made of heliotrope. However, this gemstone was used not only for making church utensils, as a conduit of honesty and faith, but also for joyous feasts.
Folklore associates the properties of this stone, permeated with red spots, with blood. Indeed, heliotrope is capable of healing wounds and stopping internal bleeding.
A talisman with heliotrope will help Leo maintain their health and longevity, as well as protect them from deceivers by helping them recognize ill intentions in advance.
Citrine

It seems that Scheherazade from the tale "One Thousand and One Nights" was born under the sign of Leo. It's hard to find a better storyteller than Leo, especially since it is their natural ability, and a person is always strong where they can fully utilize their abilities.
Leo can turn the description of any mundane task into an engaging narrative, captivating listeners and leading them along. And citrine is a stone that favors orators. With it, Leo will find it particularly easy to persuade and be the center of attention.
Diamond

Agreeing with Captain Vrungel's statement, "Call your yacht whatever you want, and that's how it will sail," ambitious owners often give their companies and associations the name "Diamond."
The character of Leo possesses characteristics similar to that of a diamond if we can transfer the physical properties of this remarkable gemstone into the realm of the psyche. "Hardness and brilliance!" – every Leo would write such a motto on their shield. These qualities of the diamond talisman help Leo to overcome and conquer.
Spinel

Spinel promises Leo happiness in love. Leo, more than any other sign, needs a listener and assistant, a comrade and spectator. It is precisely such a companion that spinel will help Leo find.
Obsidian

Obsidian is a stone that stands guard over honor. It prevents one from engaging in dishonorable actions. Adhering to a code of honor is crucial for Leo. Unlike A. Blok, Leo never forgets: "About valor, about exploits, about glory." Leo strives to be in the center of attention. And in the light of this spotlight, any dishonorable actions are visible. Obsidian will shield Leo from people's gossip and slander.
Emerald

As the patron stone of poets and midwives, emerald supports the realization of Leo's original ideas, promising not only recognition but also material gain. The essence of such projects, figuratively speaking in the words of A. Pushkin, is "cores—pure emerald."
Brief Properties of the Main Leo Gemstones
Best Gemstone Colors for Leo:
Golden, red, and yellow colors
The Sun, the source of life, seeks to impart its strength to Leo through golden, red, yellow, and transparent gemstones:
Ruby ignites a desire for life within Leos, painting their everyday life in festive hues.
Heliodor transforms Leos into artists and poets, bestowing inspiration upon them even in mundane moments.
Opal provides Leo with the warmth and support they yearn to feel, especially when atop the cold peaks of contemplation.
Onyx assists Leo in deciphering situations and adapting to changing circumstances.
Rhodonite helps Leo establish a harmonious connection with those around them.
Gems Contradicted to Leo
In the wonderful film "Buratino," Alice the Fox and Basil the Cat sing: "A braggart doesn't need a knife, just give them a little wine, and do whatever you want with them." Leo often finds themselves surrounded by such "singing" people. At the same time, Leo is sensitive to praise and can be overly trusting. Sometimes this leads to disappointment in people, but it can also have more serious consequences. To avoid this, Leo should stay away from insincere individuals.
Leo is easily offended. They cannot tolerate routine and always seek celebration. Silence does not suit Leo. They feel bored because they cannot express themselves. Silence and oblivion are destructive for them. Leo should be cautious in selecting certain gemstones as talismans:
Amethyst - sobers Leo up from the triumph of victory. In other words, it takes away the most important thing from Leo — the love for splendor and fame.
Chrysoprase - attracts false friends.
Turquoise - guides Leo towards victory in love and directs them to the battlefield. However, it will be a quiet, unnoticed victory and quiet happiness. Leo does not agree with such an outcome; the purpose of their existence disappears — to make themselves known as loudly as possible.
Silver and Gold for Leo's Jewelry
Silver
At night, when the Moon casts its silvery light, Leo will rest their noble head on their powerful paws and listen to a ballad about great feats and glory. This is a tribute to admiration for all that is beautiful. Silver is used to make organ pipes and heralds' trumpets. This metal helps Leo relax, gather strength again, and give others a reason to compose a ballad about them.
Gold
"Fate caresses the young and eager," sings Karachentsov, playing the Marquis in the film "A Dog in the Manger." Knights adorned themselves abundantly with gold. It is the metal of energetic and strong individuals who always feel young. Leo chooses gold jewelry as their rightful possession, believing they can aspire to the best.
Everyone is happy where their abilities are in demand, where they correspond to the moment, where they feel free, like a stretching and sharpening Leo. Let those born under this Zodiac sign shine, lead others, and evoke well-deserved admiration.

More Leo horoscopes: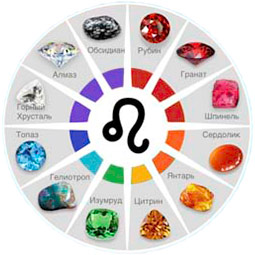 Leo Man
Leo Woman
Leo Compatibility
Leo Child
Leo Career
Leo Love
Leo Lucky stones
Leo Health
Leo Constellation