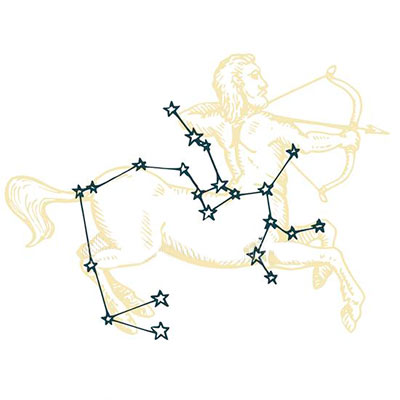 Aries

Taurus

Gemini

Cancer

Leo

Virgo

Libra

Scorpio

Sagittarius

Capricorn

Aquarius

Pisces
November 22 - December 21
Planet of Sagittarius: ♃ Jupiter.
The constellation Sagittarius (Latin name: Sagittarius) holds the first place in terms of the number of variable stars - there are five and a half thousand of them in this constellation! And within the constellation of Sagittarius, there are also numerous globular clusters, dark and bright nebulae. But that's not surprising, considering that Sagittarius is located right in the center, in the busiest part of our Galaxy.
Thanks to its fortunate location, Sagittarius is rightfully considered the most beautiful part of the Milky Way. Images of this particular section of the starry sky can be found more often than others in paintings, photographs, advertisements, and, of course, in science fiction movies.
It would be strange if the constellation Sagittarius, which is situated at the bustling intersection of interstellar paths, didn't have its own secrets, astonishing and incredible astronomical phenomena. One of the most well-known (and terrifying) among them is closely studied by astronomers worldwide, causing their hearts to skip a beat. It's Sagittarius A, a supermassive black hole at the very center of the Galaxy, where entire stellar systems "plunge" in entirely.
Due to its position in the celestial sphere and the number of stars it contains, Sagittarius can hardly be called an ordinary constellation; rather, it's a true galactic capital or even a stellar empire.
Astrology of Sagittarius
Sagittarius Months: November, December
Sagittarius is the 9th sign of the Zodiac circle. The Sun enters Sagittarius on November 21st or 22nd, depending on the year, and remains in it until December 20th or 21st.
Season of Sagittarius: Autumn
Sagittarius is the third and final sign of autumn. During this season, cold weather sets in, nature falls into a winter slumber, but within the depths of the earth, the warmth of summer still lingers, nurturing and protecting the seeds for future harvests. People gather around warm hearths, fireplaces, and bonfires, as warmth becomes a symbol of life during the cold winter months. This cherished, invigorating warmth is reflected in the character of Sagittarius: fueled by an inner fire, they are warm, friendly, and generous, readily sharing with others.
Element of Sagittarius: Fire
The element of Fire represents untamed and life-giving energy, the energy of the sun itself. In the Zodiac, three signs possess the powerful force of fire: Aries, Leo, and Sagittarius. They are distinguished by their activity, vigor, and creative spirit, bestowed upon them by Fire.
Fire governs instincts, spirit, and intellect, compelling Sagittarius to constantly move forward, to never lose hope and faith in themselves, and to defend their own views. Confidence in their abilities, impatience, carefree nature, emotional intensity, courage, unyieldingness, and a touch of recklessness are all traits inherent in Sagittarius under the influence of the element of Fire.
Ruling Planet of Sagittarius: Jupiter
In astrology, Jupiter is an abundant and benevolent planet, bringing joy, satisfaction, support, and protection to people. Its motto is "I enjoy!" Jupiter is a planet of expansion; it is generous, open, and often bestows unexpected gifts of fate. Its favorable placement in the horoscope promises great winnings, substantial inheritances, and profits.
Under the influence of Jupiter, Sagittarius knows how to find pleasure in life and bring joy to others and themselves. They seem to attract luck into their lives. Their friendly attitude towards people and optimism are also the result of the influence of this wise planet. Sagittarius has the ability to see the bright side of everything; their metaphorical glass is not half full—it has several brimming glasses ready to go! Jupiter in the horoscope gives Sagittarius the ability to overcome any hardships, transforming them into invaluable life experiences.
Colors of Sagittarius: Cobalt blue or turquoise, as well as the light yellow of fire and the bright white of lightning.
Metal of Sagittarius: Tin.
Talisman Stone of Sagittarius: Turquoise, garnet, lapis lazuli.
Opposite and Complementary Sign of Sagittarius in the Zodiac Circle: Gemini.
Geographical Places Most Aligned with Sagittarius
Countries, locations, and cities that possess a similar energy where Sagittarius will feel most comfortable.
Countries: Saudi Arabia, Australia, Spain, Hungary, Madagascar.
World Regions: Campania, Colorado, Finisterre, Provence, Puy-de-Dôme.
Cities: Avignon, Budapest, Cologne, Naples, Narbonne, Stuttgart, Toledo.

More Sagittarius horoscopes: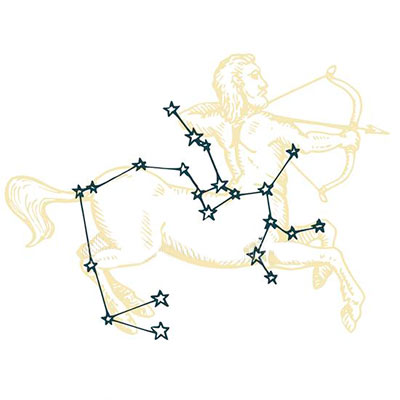 Sagittarius Man
Sagittarius Woman
Sagittarius Compatibility
Sagittarius Child
Sagittarius Career
Sagittarius Love
Sagittarius Lucky Stones
Sagittarius Health
Sagittarius Constellation
Choose a Zodiac sign

Aries

Taurus

Gemini

Cancer

Leo

Virgo

Libra

Scorpio

Sagittarius

Capricorn

Aquarius

Pisces