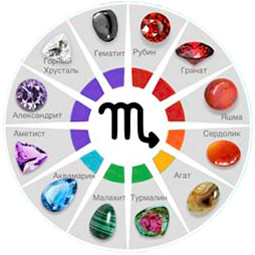 Aries

Taurus

Gemini

Cancer

Leo

Virgo

Libra

Scorpio

Sagittarius

Capricorn

Aquarius

Pisces
Where representatives of other signs may give up and retreat, Scorpio will keep pushing forward, often operating at the limits of human capabilities. Scorpio is so disciplined that they will forsake all entertainment in pursuit of their great goals.
Scorpio is considered one of the embodiments of Africa, and it offers them talismanic stones that are rich in power: garnet, hematite, aquamarine, malachite, amethyst, carnelian, ruby, jasper, alexandrite, tourmaline, clear quartz, and agate.
Garnet

Scorpio needs a fiery furnace in their soul to propel themselves forward powerfully and steadily, like a locomotive! The crimson flame is represented by garnet, which generates strong desires. It will guard Scorpio, just like any traveler, on their journey to distant lands and the path to success.
In hot countries, crusaders, moving from well to well, relied on the protection of garnet against poisons. This powerful talismanic stone will shield Scorpio from physical and emotional wounds.
Among Scorpios, there are many monogamous individuals, and garnet will ignite passion in them, as fiery as the Spanish flamenco.
Hematite

Ownership of certain breeds of fighting dogs is equated to carrying cold weapons. The same can be said in astrological terms about hematite. Warriors treasured this stone, which promised invincibility in battle, and sewed it into their clothes and footwear.
What proved useful in battle can also be helpful in peacetime: hematite will subdue the will of people for Scorpio, helping them remain unaffected and invulnerable to stress in intellectual battles. Additionally, this stone will support Scorpio's body, keeping them energetic and aiding the heart, liver, and spleen.
Aquamarine

Aquamarine, transparent as the waters of the ocean, helps Scorpio gain clarity in matters and relationships. This icy blue stone will allow Scorpio to maintain calmness even in the midst of a crowd that sweeps everything in its path.
Sailors entrust their lives to aquamarine, relying on its protection, but safety is not only important on distant journeys. Aquamarine will guard Scorpio on their journey through the sea of life.
On the path of life, it is important to go together: on this road, aquamarine will protect Scorpio's marital union, helping the couple in love avoid misunderstandings.
Malachite

Scorpio doesn't know how to retreat, but before embarking on a quest for happiness, it would be useful to determine the goal: is it attainable? Malachite will help Scorpio make the right decision.
Moreover, this stone, which maintains a favorable atmosphere in the home, will become a protector for the whole family: for Scorpio, malachite will aid in fulfilling desires and protect their children from illnesses.
Of course, not every Scorpio can afford a malachite living room like Emperor Nicholas I, but any representative of this zodiac sign can acquire a writing instrument adorned with malachite. Malachite will bring creative inspiration to Scorpio.
Amethyst

Amethyst soothes the nerves, dispels anxiety, protects against the evil eye, and sends good thoughts. Lev Gumilev spoke cheerfully about this stone: "Amethyst glowed and bloomed/With multicolored sparks,/Like a swarm of cheerful bees."
Under the influence of amethyst, which creates a positive mood, Scorpio will have a friendlier attitude towards the world, and the world will respond in kind.
Amethyst will also change Scorpio's attitude towards work. Among individuals of this zodiac sign, there are many workaholics, and this talisman will help organize things so that tasks are completed while leaving time for relaxation. Additionally, amethyst will provide Scorpio with sound and peaceful sleep.
Carnelian

Scorpio fears the machinations of enemies and cherishes love, and carnelian is the stone that will help them in both cases: the talisman will turn Scorpio's enemies into allies and preserve love.
Wealthy Egyptians, aware of the miraculous properties of carnelian, wore fasteners made of this stone. Even the goddess of wisdom, Isis, chose this stone as her symbol: those who seek her patronage wear a carnelian gem with her image.
Ruby

The comparison to blood is a comparison to life. In the bright red ruby, Scorpio will find a source of boundless strength and wisdom. The first laser was created using ruby for a reason: criminal desires burn in the crimson light of the stone.
Ruby is often associated with time as well: it is said that this stone slows its flow. For example, a wedding is called a ruby wedding for a reason: the joke is that a couple has lived together for forty years! A talisman with ruby will give strength and passion to Scorpio's love relationships.
Since ancient times, rubies have been used in clock mechanisms, automatons, and mechanical dolls that seemed like miracles to ordinary people. Similarly, in Scorpio's life, ruby will become the driving force that makes everything go smoothly, precisely, and seemingly magically!
Jade

In ancient times, jade was believed to bring rain. And this miraculous stone will protect Scorpio from drought, from emptiness in the soul.
Daoists used a jade talisman to care for immortality: they believed that everyone should acquire a jade pearl, and then their body would become jade as well. While this stone may not grant immortality to Scorpio, it can contribute to a healthy and long life.
The Chinese believe that a jade rabbit lives on the moon. It will guard Scorpio at night and send them good dreams. Moreover, jade will bring excellent health and a positive outlook to Scorpio.
Alexandrite

There is a saying about alexandrite: "Green in the morning, red in the evening." This stone will give Scorpio flexibility in thinking and diplomatic skills in communication.
In Christian tradition, alexandrite is believed to pacify the soul: it will help Scorpio make peace with themselves and soften their relentless self-criticism. When we talk about Scorpios needing love, it implies not only a tender feeling towards a partner but also a kind attitude towards oneself.
Additionally, alexandrite will help improve Scorpio's blood circulation and strengthen their spiritual power.
Tourmaline

Scorpio always has a lot of tasks on their plate - perhaps because they handle them well. But the price for this is quite high: emotional burnout. To help Scorpio withstand depression and fatigue, there is a remedy that will lead them to balance and harmony: tourmaline. It will bring youthfulness and strength to its owner, bestow love and hope.
Rock Crystal

It's challenging for a workaholic Scorpio to build relationships with subordinates. Scorpio doesn't have anything against anyone, but they expect tasks to be completed with excellence. It's nothing personal, as they say. It's just that Scorpio can feel deeply hurt when their good intentions are not understood.
A talisman with rock crystal will help Scorpio establish trusting relationships with those around them, relieve unnecessary tension, and guard their sleep, where, as Mandelstam says, enlightenments are possible: "A crystal of high notes in the fortified ether."
Agate

They say that if you don't have enemies, you haven't lived your life to the fullest. This cannot be said about Scorpio - someone often holds a grudge against them. That's why the help of an agate talisman, which protects against human malice, will be invaluable for them.
Negative people will always find something to envy, especially since Scorpio manages to accumulate a decent capital through hard work. The magic of agate attracts money to Scorpio while shielding them from the evil eye.
Brief characteristics of the main stones for Scorpio
Best Colors for Scorpio Stones
Red, green, and blue colors
Mars and Pluto advise Scorpio to choose red or transparent stones with green and blue hues as their allies.
Beryl will assist Scorpios in love and creativity.
Red coral improves memory and relieves headaches - Scorpios need a talisman to help them cope with fatigue.
Sapphire helps avoid any troubles, including family issues. Moreover, sapphire diverts thoughts from revenge and directs them towards spiritual values.
Gemstones Contradictory to Scorpio:
Scorpios are often criticized for being critical. However, they are more demanding of themselves than of others. They are sensitive and conscientious, always trying to soften their sharp words. It is not advisable to be too strict with them, especially because Scorpio is already harsh on themselves. It is better for them to avoid gemstones that exacerbate their complex character.
Pearl - Scorpio is highly sensitive, and if the pearl loses its luster, which can happen, it may become an additional source of anxiety and worry.
Moonstone - Scorpios strive for clarity, so the confusion caused by the moonstone can lead to irritation. Scorpios are prone to self-criticism, and losing control can result in depression.
Amber will awaken memories, and Scorpio can get "stuck" in them, like a fly in resin.
Gold and Silver for Scorpio Jewelry
Silver
The gleam of armor and willow fluff, floating cobwebs in late autumn, pocket watches and punctuality, a ring with engraved names and foil from a candy wrapper - that's what silver means to Scorpio. They seek tranquility and confidence in silver jewelry.
Gold
Doubloons and gold coins symbolizing a secure future, a quiet autumn before the rain falls, honey and the buzzing of bees, Van Gogh's sunflower and the soft glow of stars, a pie crust and fish in an artificial pond - that's what gold represents to Scorpio. They seek stability, comfort, refinement, and abundance in gold jewelry.
Scorpio's character can be described by a line from a song about an armored train standing on a sidetrack. Scorpio may not appear particularly friendly at first, but they will dispel this impression when it becomes clear that in a difficult situation, you can rely on them alone.

More Scorpio horoscopes: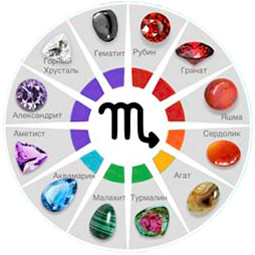 Scorpio Man
Scorpio Woman
Scorpio Compatibility
Scorpio Child
Scorpio Career
Scorpio Love
Scorpio Lucky stones
Scorpio Health
Scorpio Constellation