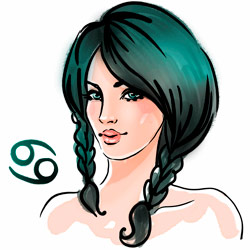 Aries

Taurus

Gemini

Cancer

Leo

Virgo

Libra

Scorpio

Sagittarius

Capricorn

Aquarius

Pisces
June 22 - July 22
Ruling Planet of Cancer: ☽ Moon
A Cancer woman is as mysterious as the Moon herself. Did you think she was practical and rational, only to discover upon closer acquaintance a romantic nature and a tender, vulnerable soul? Did you previously perceive her as the epitome of calmness, yet around you her mood keeps shifting, showing joy, thoughtfulness, or sorrow? Believe me, this is completely normal. Few people are allowed by a Cancer woman to see her as she truly is: she carefully hides her vulnerable inner world from outsiders.
How to Win Over a Cancer Woman
If a relationship with a Cancer woman is precious to you, the worst thing you can do is to chastise and criticize her. After all, everyone has their fair share of flaws, but only a Cancer can fall into a deep melancholy if these flaws are openly addressed. And that's only half the trouble: in the end, a Cancer woman's melancholy will sooner or later fade away, but your relationship is unlikely to remain the same. More likely, she will just withdraw, hiding from you not only her hurts, but also her tenderness and love.
Nevertheless, a relationship with a Cancer woman is worth learning how to navigate around the sharp edges. Cancer is so feminine, so charming, cooks so amazingly well, and is such a splendid homemaker, that she could be the joy of any man dreaming of a family hearth.
She is not seduced by holiday flings, because in relationships she's not looking for fleeting passion, but real values: love, loyalty, care, and attention. Betrayal and infidelity of a loved one can shatter her tender heart, while she, on her part, is simply incapable of such deeds.
Relationship with a Cancer Woman
If you become the chosen one or even the life partner of a Cancer woman, always remember that despite all her love for you, many of her thoughts and memories will remain inaccessible to you. Accept as a fact that there is a place in her soul for little secrets. If she shares her doubts and fears (of which she has many) with you, support her with words of encouragement. The fact is that many Cancers have self-doubt, and you will have to work to instill confidence in her.
At the same time, despite all her fragility and romanticism, a Cancer woman is not exactly the type to have her head in the clouds. On the contrary, she is very practical, knows how to manage a household, handle money, save for a rainy day, and raise children.
When it comes to difficulties, a Cancer woman usually does not show much resilience, preferring to patiently wait for the end of a rough patch. However, this does not apply to cases where someone close to her is threatened. Standing up for a loved one, a usually calm and affectionate Cancer woman is ready to fight like a lion! As her husband, you will never doubt her loyalty, yet even at your golden wedding anniversary, surrounded by children and grandchildren, you will still be thinking about the many mysteries you've never managed to solve, primarily the mystery of her unique charm.
Cancer as a Mother
When it comes to motherhood and raising children, there is no match for a Cancer woman, to the extent that she is capable of spending nights sitting by a child's bed, listening to the child's breathing: is it steady, is the child sleeping well? Such excessive care leads to the fact that it's hard for Cancer woman's children to learn independence – their mother does everything for them, almost until they get married. However, what they definitely do not lack is attention, care, and high self-esteem, nurtured by their mother.

More Cancer horoscopes: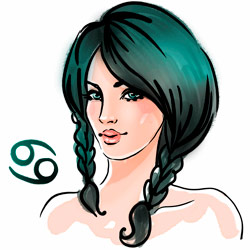 Cancer Man
Cancer Woman
Cancer Compatibility
Cancer Child
Cancer Career
Cancer Love
Cancer Lucky Stones
Cancer Health
Cancer Constellation
Choose a Zodiac sign

Aries

Taurus

Gemini

Cancer

Leo

Virgo

Libra

Scorpio

Sagittarius

Capricorn

Aquarius

Pisces