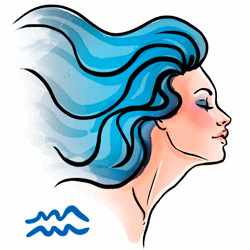 Aries

Taurus

Gemini

Cancer

Leo

Virgo

Libra

Scorpio

Sagittarius

Capricorn

Aquarius

Pisces
January 21 - February 19
Aquarius' Planet: ♄ Saturn, ♅ Uranus.
"With the beloved, even a lavash is heaven!" - she might seriously tell you. Why lavash, you might ask? That's because she's an Aquarius. Reconcile with the fact that her logic is inaccessible to you.
Aquarius woman should have been born a hundred years later, or even better, a thousand. Because only then will what she says and wears not single her out from the crowd. However, in our time, it is simply impossible not to notice Aquarius: she is inimitably original, and both her clothes and her statements hint at an extraordinary personality, taste, courage, and talent.
She finds it boring to stick to one style in clothing, she is capable of changing outfits and looks like gloves. Today, she might fancy going to the theater dressed as a vamp woman, and tomorrow she may surprise you with a Tyrolean shepherdess dress and a hat with a veil. Aquarius woman is a creative individual, and her own appearance is the main object of her creativity.
How to win an Aquarius woman
If you want to win the heart of an Aquarius woman, remember that she will not trade her freedom and independence even for a diamond cage. First of all, she is not at all striving for marriage, but if it is destined to happen, she would prefer to live in a humble apartment with her husband, having the ability to live as she pleases. And not every man is capable of reconciling with her concept of a free life.
First, the Aquarius woman has a simply gigantic circle of acquaintances. If you gather all these people in one room, you won't find anything in common among them: a priest, a hacker, an avant-garde artist, a Minister of Economy... They all have only one thing in common: acquaintance with Aquarius, and be prepared for the fact that communicating with them will take up the lion's share of her time.
Moreover, the Aquarius woman loves trips. For her, to suddenly leave and go somewhere for a couple of days is like going to the store. By the way, speaking of the role of a housewife, she will do the household chores with much less enthusiasm. She just knows that the time needed to maintain cleanliness in the house, prepare food, and wash dishes can be spent more usefully. There's nothing you can do, but the Aquarius woman is allergic to household chores and even the word "must."
Relationship with an Aquarius woman
Domestic rules in any form are not for the Aquarius woman. She will not tolerate if you start telling her what to do or start criticizing. She has defended her right to be extravagant, unpredictable, and perform inexplicable actions since childhood and will continue to do so all her life. The only chance to achieve something from her is to use a carrot, not a stick method.
However, despite all the mobility and independence of the Aquarius woman, you do not have to fear her infidelity. If something does not suit her, she will prefer to get divorced peacefully rather than start an affair on the side. She is too interested in too many things besides sex to waste time on two men at once.
However, marriage to an Aquarius woman also has many other advantages. Thus, valuing her own freedom, she will respect yours as well. Suspicion, jealousy scenes, interrogations of "where were you?" - all this is alien to her independent nature.
In addition to this, Aquarius is beautiful, talented, curious, and knows how to present herself effectively. She can support any conversation - from sports news to science and politics - and is an incredibly interesting interlocutor. Talking to her is more engaging than watching the Discovery channel!
Aquarius values a man primarily as a conversationalist and friend, which is why she will never choose a silent, conservative, despotic, or introverted man for a husband. In general, she is more interested in the inner world of her partner than in his appearance and the thickness of his wallet. Intelligence, imagination, intuition, breadth of thinking - all this is inherent in the Aquarius woman herself and the same should be possessed by her husband. That is why Aquarius often become wives of people associated with art, politics, or science.
The Aquarius woman is a woman of the world. She does not even belong to herself, so how can she belong to you alone? But only with her will you understand how much new and amazing is around. Life before meeting her will seem gray and flat to you, because if ordinary people are hostages of a one-dimensional world, then for the fiery, rainbow nature of the Aquarius woman, even ten dimensions are not the limit.
Aquarius as a mother
As a mother, Aquarius is capable of developing imagination and all kinds of creative talents in her children, as well as teaching them to be sincere and honest.

More Aquarius horoscopes: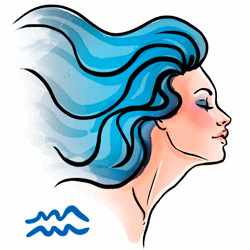 Aquarius Man
Aquarius Woman
Aquarius Compatibility
Aquarius Child
Aquarius Career
Aquarius Love
Aquarius Lucky Stones
Aquarius Health
Aquarius Constellation
Choose a Zodiac sign

Aries

Taurus

Gemini

Cancer

Leo

Virgo

Libra

Scorpio

Sagittarius

Capricorn

Aquarius

Pisces