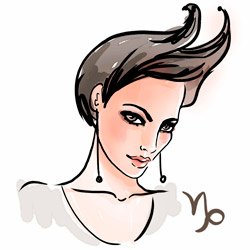 Aries

Taurus

Gemini

Cancer

Leo

Virgo

Libra

Scorpio

Sagittarius

Capricorn

Aquarius

Pisces
December 22 - January 20
Capricorn's Planet: ♄ Saturn.
If you meet a Capricorn woman before she turns twenty, you'll most likely be pleasantly surprised by her lack of interest, unlike her peers, in actively using makeup. Against her painted-up, battle-ready friends, she'll stand out with her natural brows and blush. However, by the time she reaches forty, the contrast will be simply staggering: the Capricorn woman will look so youthful, natural, and fresh that you won't believe her age until you peek at her passport!
Even more surprising will be the discovery that the key to her eternal youth is her healthy conservatism. Indeed, the Capricorn woman is so confident that her tomorrow will be no worse than today (and this applies to her appearance too) that she can even convince her biological clock of this!
However, a Capricorn woman's confidence can perform even more wonders. The fact is, if the usual woman's weapon is weakness, then Capricorn's weapon is her tremendous inner strength. You will admire the persistence with which she overcomes obstacles and achieves her set goals, all while appearing charming and sweet externally.
How to Win a Capricorn Woman
The Capricorn woman is designed in such a way that from childhood she aspires to achieve much in life, and this shapes and tempers her character. She is intelligent, well-mannered, educated, ambitious, and usually makes a good career before marriage, but she is acutely aware that women have fewer chances than men to fully realize their ambitions. Therefore, even though Capricorn marries for love, this love must have significant career and financial prospects.
Sometimes, based on this, people even accuse the Capricorn woman of marrying for convenience, but this is far from true. She can say "yes" even to a penniless student, though a couple of years later, it will most likely turn out that this student is bright and is being offered a job in Silicon Valley.
It can't be helped: striving for success is one of Capricorn's main character traits. She senses success at its inception and is born not only to realize her own potential but also to help her husband reach the greatest heights. Who better than her to support, inspire, give valuable advice, make him believe in himself, and help overcome all difficulties and failures?
Conversely, a man who does not strive for big goals simply does not exist for her. In her eyes, this is as much of a flaw as ugliness is to others. Keep this in mind if you want to win her love.
Relationship with a Capricorn Woman
Becoming the husband of a Capricorn woman, you can expect another pleasant surprise: she is a magnificent housekeeper. Leaving you to focus on your career, she will gladly dedicate herself to the home and children, achieving the highest levels of mastery in this. She cooks wonderfully, maintains comfort and cleanliness in the house, manages finances excellently, and does all this with visible pleasure. In general, the Capricorn woman values ​​any good traditions, especially those associated with home and family.
Family ties are sacred to Capricorn. With the same reverence and respect with which she treats her own parents, she will treat yours. Family dinners, where your numerous relatives gather, are not a heavy burden for her, but an honorable duty.
Moreover, with a Capricorn woman, you don't have to worry about sudden mood swings or hysterics involving smashed dishes. Even when she's upset, she doesn't feel the need to lash out. Why? What will it lead to? Isn't it better to just sit down and talk to discuss all the problems together?
However, it happens that behind her usual outward calm hides sadness. Despite her resilience and vitality, the Capricorn woman is prone to bouts of pessimism. Try to distract her from thoughts about old age, death, missed opportunities, so they don't poison her life. To do this, praise her more often and recognize her merits, but most importantly, do not criticize. It is vitally important for Capricorn that you approve of what she does.
Despite her restraint in relationships with strangers, she has strong and very persistent feelings. When she chooses you, her restraint and ostentatious severity will disappear without a trace. Capricorn will give you all of herself completely: all her tenderness, touchiness, romanticism, and passion, which she carefully hides from others.
Her love will illuminate your entire life, elevating you to the peaks of career and beyond, to the peaks of bliss.
Capricorn as a Mother
A Capricorn woman does not spoil her children. She is a caring but strict mother, and a good educator, instilling a love for organization and order in her child from a young age.

More Capricorn horoscopes: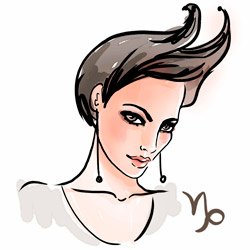 Capricorn Man
Capricorn Woman
Capricorn Compatibility
Capricorn Child
Capricorn Career
Capricorn Love
Capricorn Lucky Stones
Capricorn Health
Capricorn Constellation
Choose a Zodiac sign

Aries

Taurus

Gemini

Cancer

Leo

Virgo

Libra

Scorpio

Sagittarius

Capricorn

Aquarius

Pisces