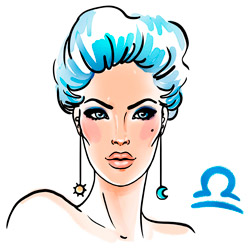 Aries

Taurus

Gemini

Cancer

Leo

Virgo

Libra

Scorpio

Sagittarius

Capricorn

Aquarius

Pisces
September 23 - October 22
Libra Zodiac Sign: ♎️
A Libra woman is not among those spoiled ladies who enjoy hanging around her husband's neck. Thanks to her logic, intelligence, and erudition, she is well-equipped to excel in her career, while her "masculine" qualities intriguingly blend with her emphasized femininity. Sometimes it even seems that Libras, knowing that men are intimidated by smart women, deliberately wear the mask of a delicate flower.
Indeed, she can chatter for hours about anything - from politics to the latest fashion trends - and only if you have the strength to listen carefully will you be surprised to realize that her discussions are intelligent and accurate. The Libra woman always has something to say about everything in the world, which is why she enjoys entering debates and disputes, losing track of time and delighting in the process itself.
How to Win Over a Libra Woman
By nature, a Libra woman is drawn to beauty in all its forms, which is why the best way to court her is to frequently take her to exhibitions and plays. After marriage, you will appreciate the Libra's refined taste, manifested in her ability to cook delicious meals, her well-chosen furniture, and her knack for charming guests. Your home will always smell good, look beautiful, and please the ear with soft music.
Relationship with a Libra Woman
Before marriage, you might find it endearing that in disputes with a Libra woman, the last word always seems to be yours. However, when the Libra becomes your wife, you will be surprised to find that the roles have changed. Libras are adept at organizing everything and persuading their interlocutor (i.e., you) to agree with them. They simply choose to tactfully hide this ability until the wedding ring is on their finger.
However, her analytical skills in marriage will prove to be quite beneficial for you. Share with her more often about what happens at work, and make sure to listen to her advice - they are genuinely valuable. Despite your home possibly resembling a flower shop, despite her penchant for showering you with endearing nicknames and kisses even in public, and her ability to chat on the phone for hours while adoring sweet donuts, remember that this lovely head also thinks remarkably well.
Perhaps in this regard, a Libra woman is unique. You might even feel like you have not one, but two wives. One is a natural homemaker, tastefully and joyfully making the house cozy. The other is an independent businesswoman who doesn't fear hard work as long as it brings prosperity to the family. This even reflects in the varied wardrobe of a Libra woman: at work, she prefers practical jeans and low-heeled shoes, while at the theater, she will flaunt a stunning dress and heels.
A Libra woman is affectionate and gentle. Her home is a haven of peace, tranquility, and comfort, and it's so easy to forget any worries in her presence. Only she will give you a delightful, relaxing massage after work and prepare a bath with rose petals. And then, lying in the warm bed, at the peak of bliss, you will tell her about your problems, which, when she is with you, will seem so amusing.
Libra as a Mother
For a Libra woman, you are the most important person in her life, so she approaches motherhood quite calmly. A child will never become the center of her little universe, as that place is firmly occupied by you. As a mother, she can show both tenderness and strictness, and will do everything to ensure your paternal authority is unshakeable.

More Libra horoscopes: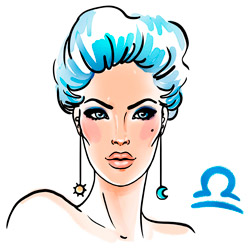 Libra Man
Libra Woman
Libra Compatibility
Libra Child
Libra Career
Libra Love
Libra Lucky Stones
Libra Health
Libra Constellation
Choose a Zodiac sign

Aries

Taurus

Gemini

Cancer

Leo

Virgo

Libra

Scorpio

Sagittarius

Capricorn

Aquarius

Pisces