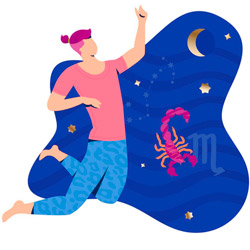 Aries

Taurus

Gemini

Cancer

Leo

Virgo

Libra

Scorpio

Sagittarius

Capricorn

Aquarius

Pisces
October 23 - November 21
Scorpio's ruling planets: ♇ Pluto, ♂ Mars.
If you are attracted to adrenaline in any form, be it a volcano eruption or passionate fervor, then Scorpio is the person you need. When it comes to getting bored or stagnating, Scorpio won't allow that. However, perhaps your idea of marriage was somewhat different, maybe you envisioned it as a quiet family haven - but now there's nothing you can do about it. If you've fallen under the deadly charm of a Scorpio man, I'm afraid it's forever.
The thing is, once Scorpio has chosen you, nothing will make him back down. If that hasn't happened yet, think carefully, do you know how to handle fire? The emotions of a Scorpio man are akin to a wild element that mesmerizes and impresses but can burn painfully.
One can say about a Scorpio man that everything in him overflows: love and hatred, strength and courage. Unlike other passionate signs, Scorpio's feelings possess incredible endurance. If it's love, it's for a lifetime; if it's self-sacrifice, it's standing in front of the firing line. And as for Scorpio's enemies, even in old age, it's advisable for them not to let their guard down.
How to win over a Scorpio man
It's no wonder that the strong and passionate nature of Scorpio attracts women to him like moths to a flame. But in order to become his chosen one without burning your wings, you need a real guide to handling a Scorpio man.
So, first of all, remember that you must become everything to him: a lover, a comrade, a conversationalist, a friend. You must share all his beliefs, and do so sincerely, because the perceptive Scorpio will immediately sense any falseness. You must not only remain faithful to Scorpio (that goes without saying!), but also forget how to flirt and even innocently shoot longing glances. Remember, playing with the emotions of a jealous Scorpio is like pouring gasoline onto an open fire.
Relationships with a Scorpio Man
Prepare yourself, because life with a Scorpio will quickly transform you into a different person. And if it doesn't, then you simply won't be able to stay by his side.
Furthermore, you should anticipate that in both work and household matters, Scorpio is unlikely to pay much attention to your opinion. It's not because he doesn't respect you. It's just that a Scorpio man is so independent that he's accustomed to taking full responsibility for decision-making. Of course, it can be hurtful when even at home, decisions are made for you. But admit it, compared to childish mama's boys (and not just them), a determined Scorpio appears to be a true man.
Despite all his flaws, perhaps only Scorpio is capable of being astonishingly loving, devoted, caring, and tender. Although he may be successful with women, not even Angelina Jolie could seduce him. Faithfulness is one of the manifestations of his sense of justice: by not allowing himself to cheat on you, a Scorpio man doesn't entertain the thought even in his own mind.
Remember, Scorpio will never stoop to empty compliments, evasiveness, lies, or deception. His praise is valuable, and his true actions and thoughts will always be open to you. In other words, with Scorpio, you'll experience what real emotions, genuine deeds, and authentic life truly mean. And isn't that worth it?
Scorpio as a Father
Scorpio is a strict and demanding father. With his children, he strives to instill tidiness, discipline, and, most importantly, the ability to stand up for themselves.

More Scorpio horoscopes: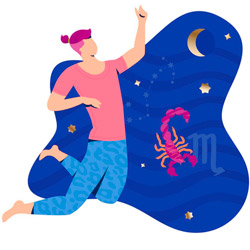 Scorpio Man
Scorpio Woman
Scorpio Compatibility
Scorpio Child
Scorpio Career
Scorpio Love
Scorpio Lucky Stones
Scorpio Health
Scorpio Constellation
Choose a Zodiac sign

Aries

Taurus

Gemini

Cancer

Leo

Virgo

Libra

Scorpio

Sagittarius

Capricorn

Aquarius

Pisces